Electric MAN TGX prototype on show in Germany. On sale 2024, 600-800km range.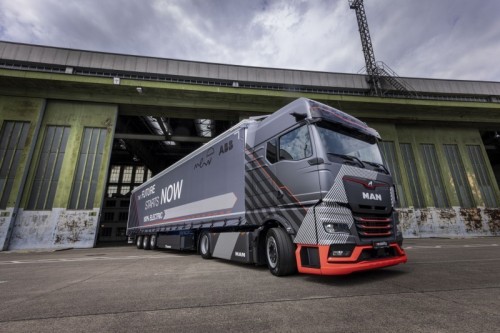 Electric trucks and full weight long haul transport were on the agenda in Germany this month, as MAN and a company called ABB E-moblity laid out plans for charging stations across Europe. MAN reckons their new truck, on sale in 2024 will have a range of between 600 adn 800 kilometres. It certainly looks the part eg: proper lorry.

PRESS RELEASE:
On the site of the former Berlin Tempelhof Airport, in the presence of German Federal Minister for Digital and Transport Dr. Volker Wissing, MAN Truck & Bus had a near-series prototype of its upcoming electric truck driven today in public for the first time. A special technical feature of the trailblazing electric commercial vehicle, which will be launched on the market in 2024, is its capacity for future megawatt charging. ABB E-mobility, a leading global provider of charging solutions for electric vehicles, aims to bring megawatt charging technology to market maturity in the next three years. MAN and ABB E-mobility are thus revving up for the next phase of electromobility: operational capability for heavy-duty long-haul trucking with daily ranges between 600 and 800 kilometers. Moreover, with their unequivocal commitment to electromobility, the two companies are signaling that the industry is ready to proceed, and that legislators must establish the policy framework for zero-emission road haulage.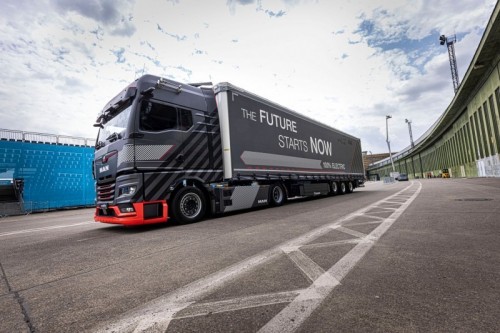 During the minister's test drive in the MAN electric truck, Alexander Vlaskamp, CEO of MAN Truck & Bus, emphasized that "accelerating the expansion of the charging infrastructure is the only way to achieve the evolution of transport and meet climate targets." He also highlighted why MAN is relying on battery-electric powertrains for future carbon-free commercial vehicle fleets: low operating costs and the best overall energy footprint. "As part of the Traton Group, we are already participating in a joint venture with industry partners to develop and operate
a high-performance public charging network with a target of at least 1,700 green electricity charging points across Europe," Vlaskamp added.
To enable long-distance daily ranges between 600 and 800 kilometers, the MAN electric truck, due to be launched in 2024, is already equipped with the technical prerequisites for future megawatt charging systems. ABB E-mobility, as a leading global provider of charging solutions, intends to bring such charging systems to market quickly.
We hope you enjoyed this article! For more news, views and reviews on all aspects of the truck driver's life subscribe today.