First phase of M1 smart motorway upgrade now open in the Midlands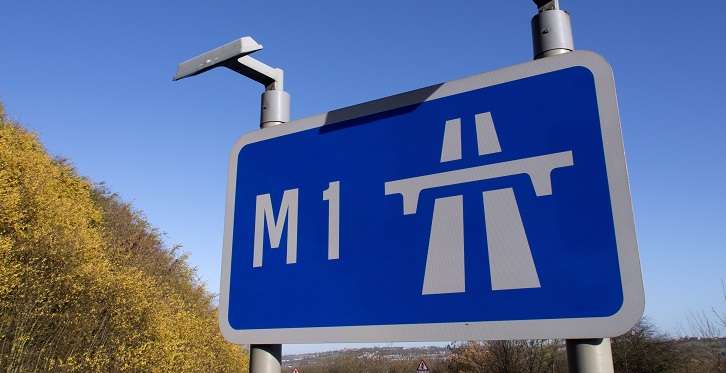 The first phase of an upgrade to the M1 between junction 16 (Northampton) and junction 17 (M45), which aims to tackle congestion and improve journey times, is now open.
There are now four running lanes instead of three, increasing capacity on the motorway by a third, and technology will help to keep traffic flowing more smoothly.
This is part of the Highways England upgrade between Catthorpe (junction 19) and Northampton (junction 16). Further stretches of the new smart motorway are due to open over the coming weeks.
Shaun Pidcock, Director of Highways England's smart motorway programme, said: "This is a significant upgrade for the M1… and will deliver real benefits for the 125,000 drivers who use it every day. We've added new lanes and completely overhauled the technology, to reduce the frustrating 'stop-start' traffic and give drivers better information to help with their journeys, while maintaining high levels of safety.
"As well as the upgrade, we have also been carrying out extensive maintenance, fully resurfacing the motorway and its slip roads and restoring it to an 'as new' condition. We have also introduced new style highly visible 'orange' emergency areas for use when drivers get into difficulty.
"I'd like to thank drivers for their co-operation and understanding while we've been building this new, improved road and hope they enjoy the improved journeys."
The smart motorway links with the new interchange at Catthorpe, which improves access to the A14 corridor and removes queueing traffic on the M1, M6 and A14 approaches.
When the smart motorway is complete, traffic sensors will automatically monitor vehicle numbers and adjust the speed limit accordingly. Fifty CCTV cameras will also provide 100% coverage of the 15-mile route, and allow Highways England's traffic officers and the emergency services to respond quickly to incidents.
We hope you enjoyed this article! For more news, views and reviews on all aspects of the truck driver's life subscribe today.