Svempa teams up with fashion designer to create new custom jacket for Scania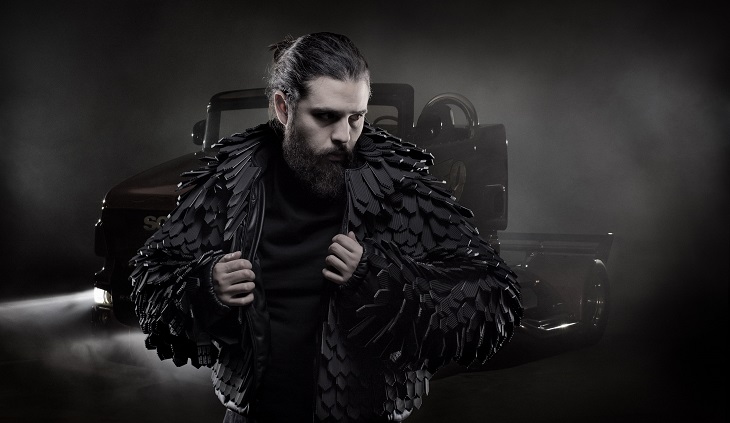 Legendary truck customizer Svempa Bergendahl recently teamed up with fellow Swede, fashion designer Bea Szenfeld, to create a one-off jacket made of fan belts to celebrate truck drivers.
Svempa and Bea shared their passion for innovation and custom-made design, resulting in the co-creation of The Griffin Jacket. Inspired by Scania's Griffin symbol and created from 200 metres of reinforced fan belts from Scania, The Griffin Jacket has been meticulously cut into 800 feather-like shapes and stitched together and has been instrumental in inspiring The Griffin Collection, a new Scania ready-to-wear range.
"Knowing that the driver jacket is an iconic and favourite product for all truck drivers, we decided to initiate this collaboration," said Sophie Haftor, director of Scania Vehicle Accessories and Branding Products. "The driver jacket is not just a functional piece of clothing for the drivers, but a way of expressing individual style too. With Svempa and Bea's amazing effort, we have created a one of a kind driver jacket to salute all professional truck drivers on the road."
Svempa added: "Having designed over 500 Scania vehicles, working with Bea on The Griffin Jacket was an excellent change of pace. We wanted to create something that celebrates the driver and brings the essence of Scania to life. Nothing embodies Scania more than the Griffin, which has grown to be an iconic symbol of Scania and the most recognizable feature of the brand."
Bea, whose designs have been worn by Björk and Lady Gaga, is known for her experiential style that uses unconventional materials to create extraordinary pieces, was excited by the commission to create a wearable piece of art for Scania. "This was both a surprising and obvious collaboration," she said. "Whilst a lot of my work has involved using upcycled materials, usually paper, cutting reinforced fan belts from Scania trucks was a mammoth task and thought-provoking. It made us reimagine how we use resources and repurpose them!"
The Griffin Jacket will be auctioned online on www.barnebys.com, raising funds to support ActionAid, a non-profit organization that works and supports women and girls around the world. The auction ends on 22 November.
You can find out more about the creation of The Griffin Jacket in the December issue of Truck & Driver, which is in shops now. If you want to subscribe to T&D, click here.
We hope you enjoyed this article! For more news, views and reviews on all aspects of the truck driver's life subscribe today.