Fuso eCanter launched in New York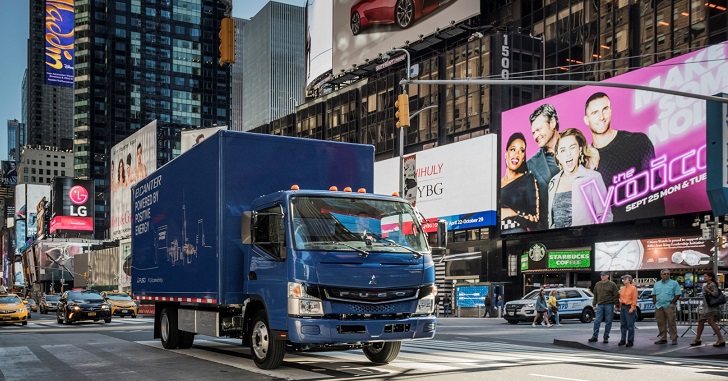 Daimler Trucks has launched the Fuso eCanter – the first series-produced all-electric light duty truck – in New York.
The first deliveries of the eCanter will be made to customers in the US, Europe and Japan. Within two years, it is planned that 500 units will be delivered. Larger scale production is intended to start in 2019.
The FUSO eCanter has a range of 100km (62.5 miles) and a load capacity up to 3.5 tons – depending on body and usage. The vehicle's electric powertrain contains six high voltage lithium ion battery packs with 420 V and 13.8 kWh each. In comparison with a conventional diesel truck, it offers savings up to euro1,000 per 10,000kms on operating costs, according to the company.
UPS will receive the first eCanters in the US. Fuso will also supply a fleet of eCanters to New York based not-for-profits, including: Wildlife Conservation Society, New York Botanical Garden, Habitat for Humanity New York City, and Big Reuse Brooklyn.
Marc Llistosella, President and CEO of Mitsubishi Fuso Truck and Bus Corporation and Head of Daimler Trucks Asia, said: "Our new Fuso eCanter now addresses the increasing global demand for products to meet and exceed high CO2 emission standards. It offers an attractive and cost-effective alternative to combustion engines and makes electric trucks key to the future of inner city distribution."
We hope you enjoyed this article! For more news, views and reviews on all aspects of the truck driver's life subscribe today.