40 Years of Magnificent Mercedes-Benz Trucking Heritage on Biglorryblog…we've come an awful long way baby!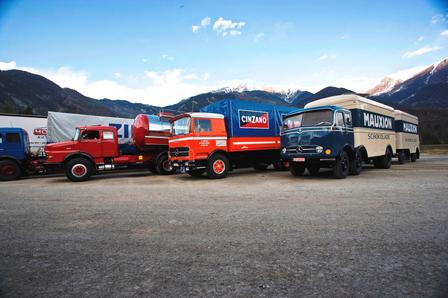 If there's one thing the people at Mercedes do better than anyone else it's preserving their history. So welcome to the Biglorryblog 'powerboost' trip through 40 years of Mercedes 'Hard Haul to High Tech' truck making thanks to the German's media website which has just celebrated the past four trucking decades by getting together this fabulous collection of old and 'new' timers! Now fasten your seat belts for four years of three-pointed-star pleasure! And believe me the stuff they have assembled is absolutely amazing…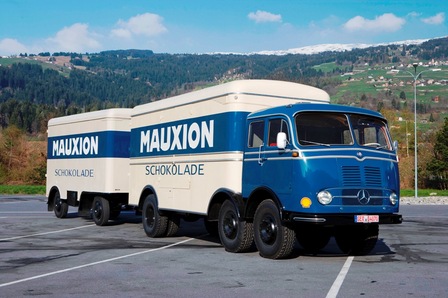 Starting with the cabover LP 333 which for Mercedes marked the dawn of the 'modern' era…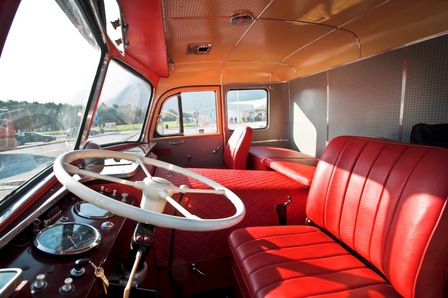 And this is what it was like inside…just check out the leather seats, 'quilted' engine cover and peg-board rear-wall and cab roof!
The 6×2 prime-mover LP333 rigid was a popular choice for wagon and drag operators in German where drawbars tradtionally ruled in the '60s…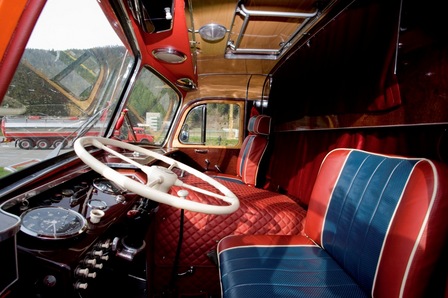 Though by today's standard there wasn't much room for an overnighter….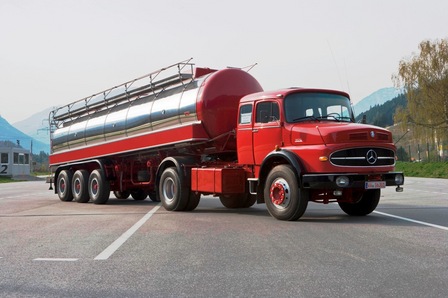 Of course, if you're talking classic Mercedes trucks it was only a matter of time before the bonneted beauties took a bow like this 1624LS…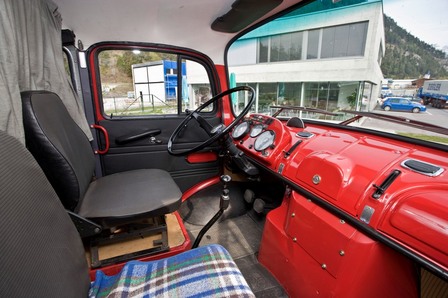 This example, like all the others, has been immaculately-restored–just look at the paint finish on the dash….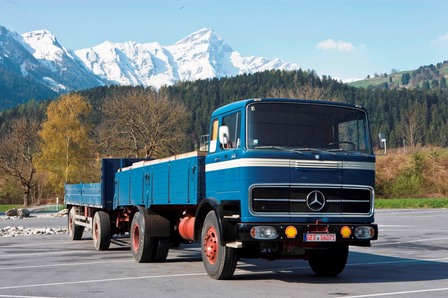 Moving up to the 1970s and it was the turn of the "New Generation" (NG) range to step into the limelight, the start of a long-running success story…the square cut cabover looked fine on big truck—and distinctly strange on a 7.5-tonner!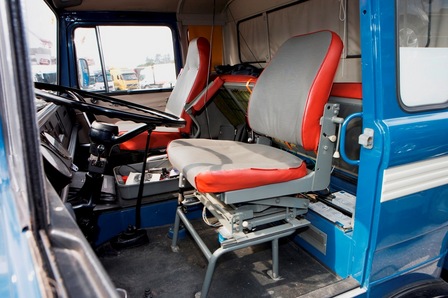 Funnily enough the cab interior of this 1620LP looks rather like a step backwards…yes the engine hump has dropped down as the cab has gone up, providing more room, but to get the bed down you still had to tilt the seats foward….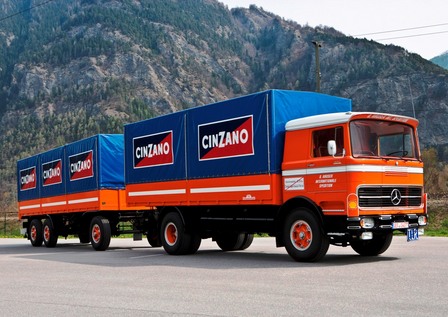 However, with a proper 'sleeper' cab the 1624LP certainly looked the 'long-haul' business and it shows in the interior too…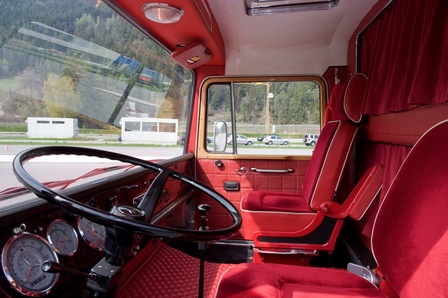 Starting to look like they meant it with two bunks, comfortable trim—in fact a TIR icon.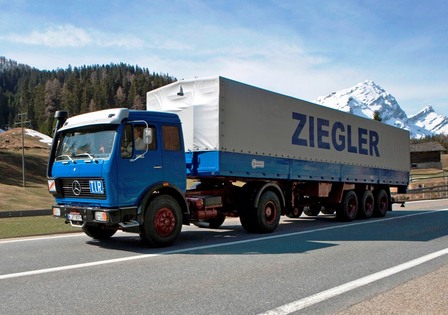 Then there was the original SK and the beginning of turbocharged engines, all topped off and the cab that lasted for a heck of a long time…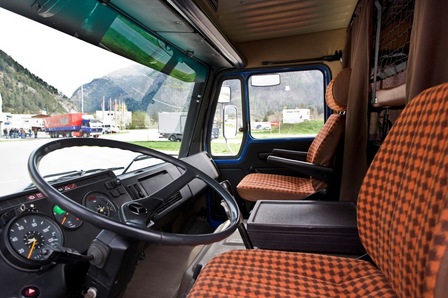 Tough, Teutonic, a fleet-operator's dream interior. Though rather spartan for drivers…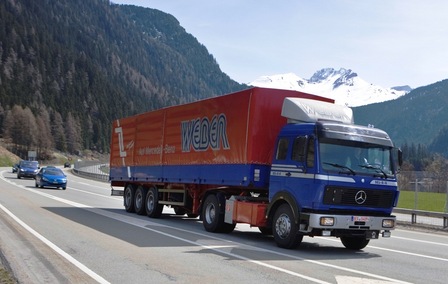 But shove a V8 underneath and the full-width sleeper on top and the 1644 was a pretty awesome machine for its day….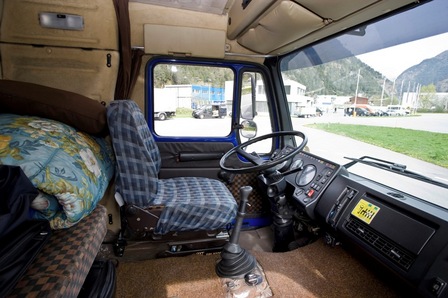 Inside it wasn't fancy—but a bullet-proof trim meant it lasted foreveer…and that old double-H stirrer, it may not have lasted down-under but it worked for me in Europe…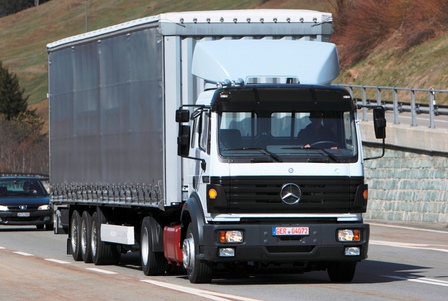 By the early '90s SK had begat 'The Powerliner' range with that wonderful device..the electro-pneumatic gearshfit…or 'Electronic Power Shift' as the marketing men insisted we call it..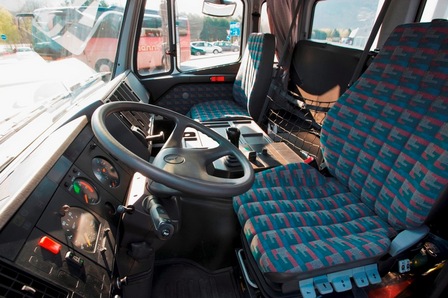 And with EPS came an interior that no longer looked like it had been designed by an accountant….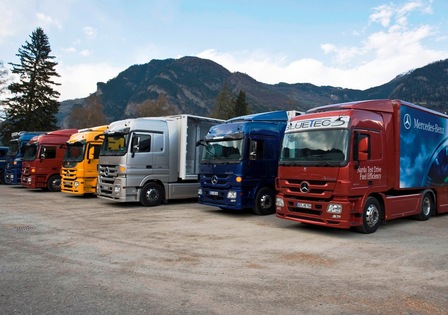 And then…in 1996…there was Actros, now in its third generation/reincarnation with an interior like this…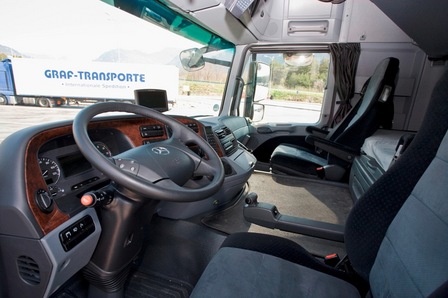 I guess a driver seeing this in 1960 would have though he'd died and gone to heaven….as the saying goes, we've come a long way baby….but which is YOUR favourite? Tell BLB by posting a comment. And hat's off too to Mercedes for gathering all these still-running gems together in one spot—a major achievement for sure…
We hope you enjoyed this article! For more news, views and reviews on all aspects of the truck driver's life subscribe today.