In the January 2017 issue of Truck & Driver….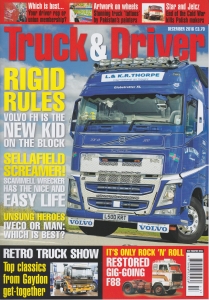 The January 2017 issue of Truck & Driver is now on sale!
Inside:
Andrew Thorpe's Volvo FH13.500 Globetrotter is our Ed's Choice – and this smart rigid runs alongside am ERF M-series which is still in regular use. Find out how this odd couple works so well side by side.
An old Volvo F88 that used to tour with The Who has been restored by Nobby Caistor; and it certainly looks the part of a rock star!
We pitch an MAN 26.560 against an Iveco Stralis AS440S56TX in our 'On your Marques' series. Both come out smelling of roses, and are great trucks.
Which is better for fighting for your rights as a driver: a union or a company drivers' rep? We look at the arguments for and against….
It's not even got 15,000 miles on its clock, but an old Scammell S24 is still used ad a heavy wrecker in Sellafield, having been denied a trip to the Falklands.
The annual Retro Truck Show was another great success. We have a full show report.
Maritime might be a big name in the logistics business, but it is very driver focussed and won't allow its drivers to overnight in lay-bys. We speak to its MD John Williams to find out why.
Poland was never a hotbed for truck manufacturing, but did spawn two makers – Star and Jelcz. We profile their brief histories.
Truck art is big business in Pakistan, and the results are stunning!
We hope you enjoyed this article! For more news, views and reviews on all aspects of the truck driver's life subscribe today.