Mercedes shine at the traditional cart marking ceremony -Biglorryblog reports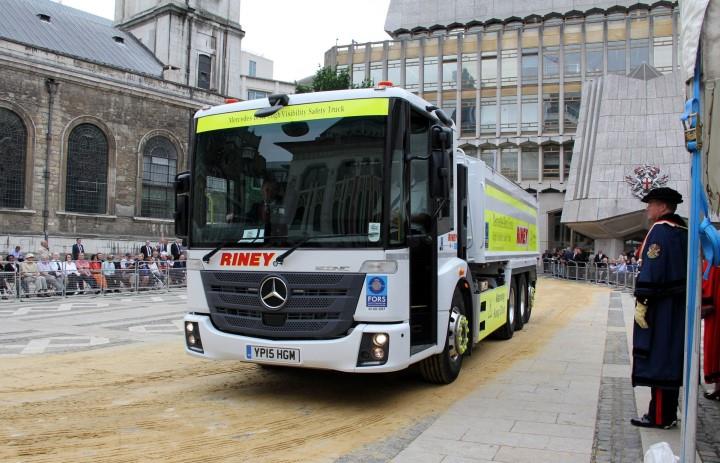 Transport has long been the lifeblood of commerce in the capital and the Corporation of the City of London has exercised its rights over carts and carriers since its inception – the City was regulating the trade of a fellowship of Carmen as long ago as 1277, while the Cart Marking ceremony dates back to 1665.
To this day Carmen bring their horse-drawn wagons and carriages, steamers, buses and coaches, as well as trucks new and old, to be inspected by the Master then branded – or 'marked' – with a red-hot iron, on a wooden plate, with the year letter and the carr number.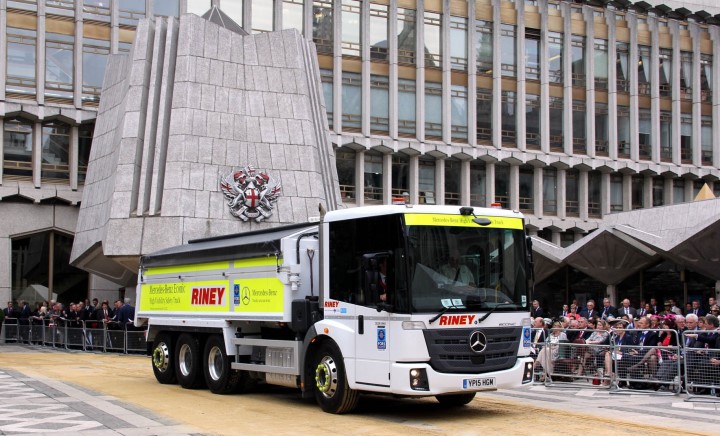 It was a fitting occasion for the world's oldest automotive manufacturer to present a vehicle that reinforces its reputation as a leader in the quest for road safety. The Mercedes-Benz Econic was purpose-designed for municipal duties but is now being marketed to those working in other sectors, notably construction. Econic-based tippers, mixers and skip-loaders offer significant safety benefits for companies seeking to reduce the risk of one of their vehicles being involved in a potentially fatal collision with a cyclist or pedestrian.
Key to the vehicle's appeal for urban operations are its low-entry cab with deep, panoramic windscreen and fully-glazed, bus-style folding passenger door, which provide unparalleled all-round visibility to the front and sides. The Econic's relatively low seating position means drivers are at the same level as pedestrians and cyclists and have unimpeded cross-cab vision, so that direct eye-to-eye contact can easily be made. To further minimise blind spots the 8×4 Econic 3235 example presented at the Cart Marking ceremony is additionally fitted with a suite of cameras, while its 'tridem' rear bogie set-up means the truck is also exceptionally manoeuvrable.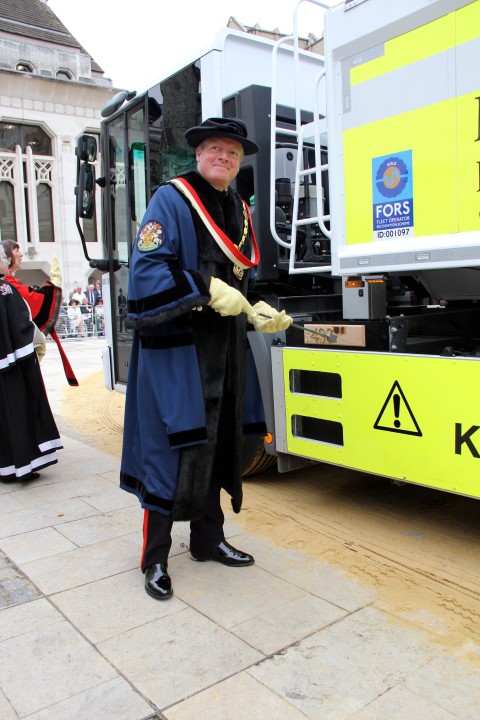 Mercedes-Benz Trucks' UK Special Products Manager Basil Vinnicombe said: "Mercedes-Benz built the world's first truck in 1896, so was naturally delighted to be invited to take part in the historic Cart Marking ritual. "It is always wonderful to look back, and to see how the job of transporting goods was done in the past. But for today's urban operators, who need a truck chassis with the ultimate safety credentials, the way forward is clear – just like the view from the driver's seat of a Mercedes-Benz Econic."
We hope you enjoyed this article! For more news, views and reviews on all aspects of the truck driver's life subscribe today.