Payload, performance and tight turns! A new DAF CF 410 8×2 tridem with Whale tanker body for DM Boyles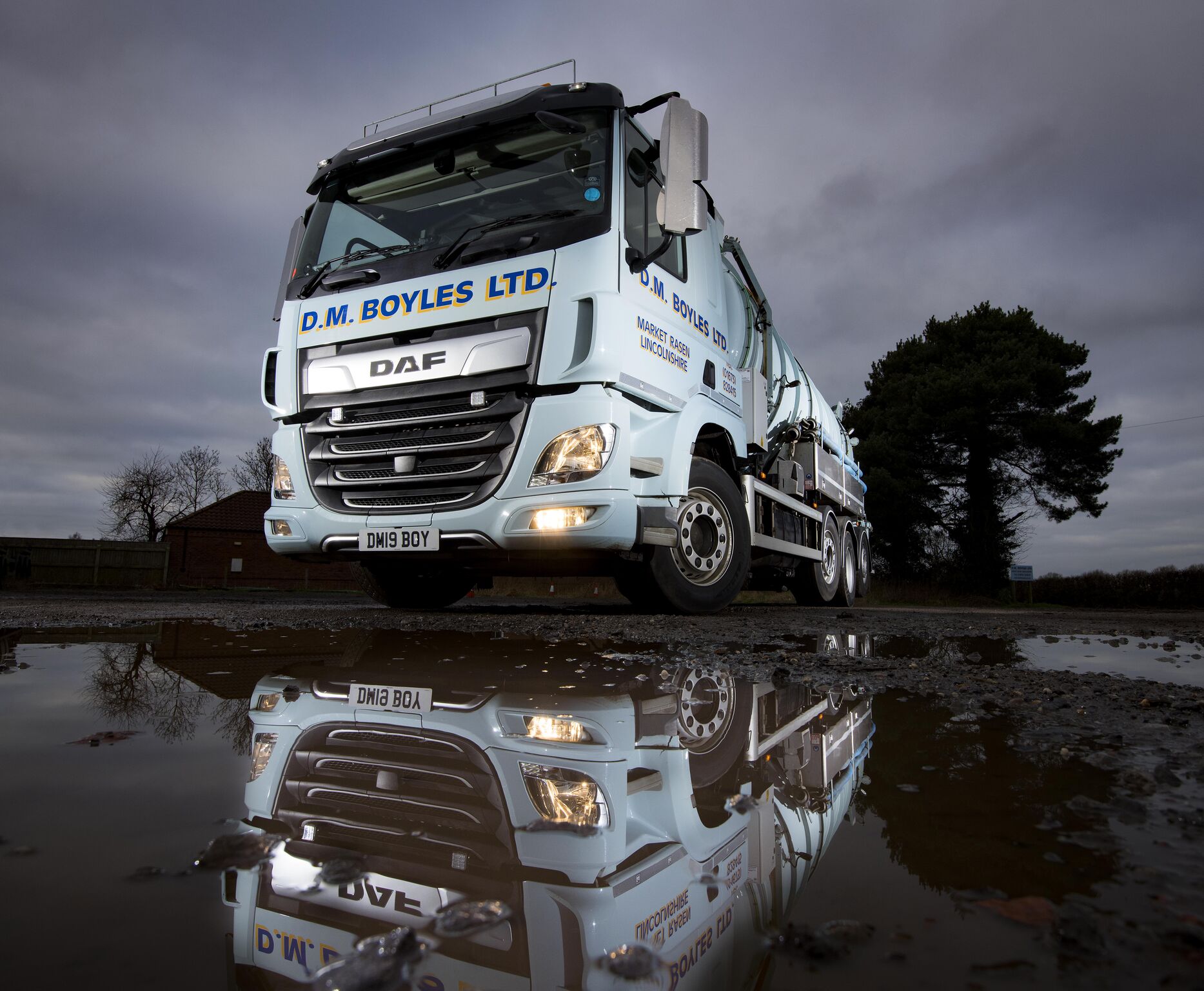 Tridem configuration eight-wheelers are now a popular option to replace traditional 8x4s. Available in single, and double-drive form, the DAF CF tridem has won a lot of plaudits for performance, economy and manoeuvrability. Here's a brand new 8×2 which has just gone into service for  DM Boyles, the family-owned liquid waste management operator based in Market Rasen. It's the very first DAF to join the growing fleet. A CF 410 FAQ, with a triple rear-axle 'tridem' bogie arrangement of steer / drive / steer axles – it's not only the first DAF, but also the first tridem on the fleet. The truck has been fitted with a stainless steel vacuum tanker body with a nominal 4500 gallon capacity by Whale Tankers.
For 12 years now, Ashley Boyles has been running the specialist business, set up originally by his father in the 1980s as an agricultural contracting company. "We moved into liquid waste work in the early 1990s," says Ashley Boyles, "and that is now our sole focus. We cover the East Midlands and Yorkshire and handle both commercial and domestic waste. Increasingly though, we had been finding the number of restricted collection points, especially for domestic septic tanks, becoming more and more of a problem. Manoeuvrability is a key factor in these types of operation, especially on all our rigids."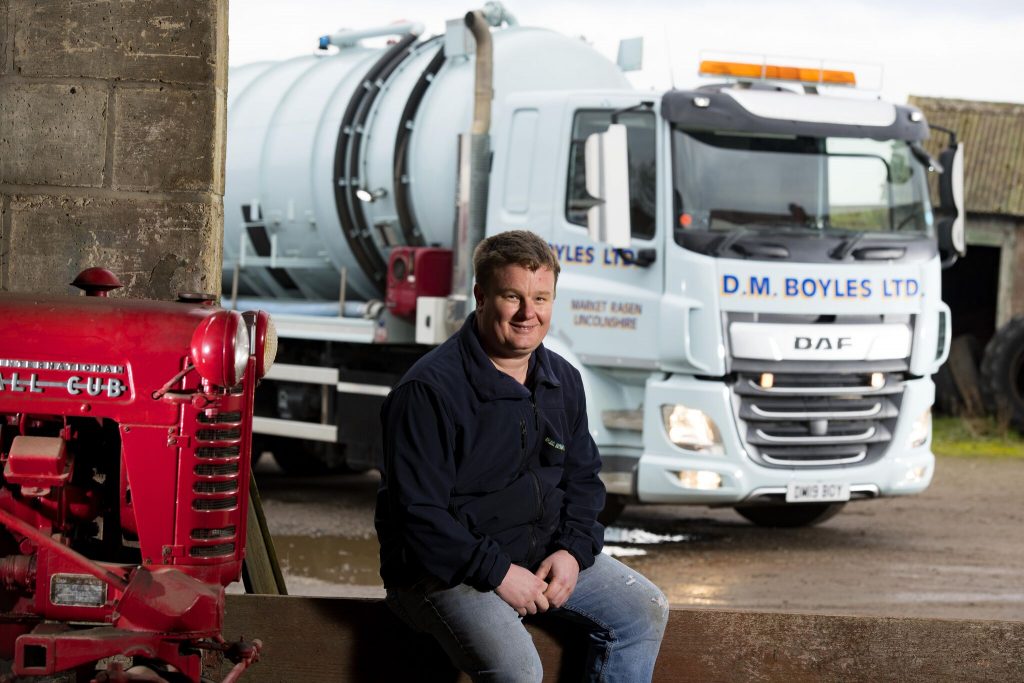 DM Boyles has other eight-wheel tankers on the fleet, but Ashley was concerned most about manoeuvrability. "Eight-wheelers are the worst thing in the world to get in anywhere," he says, "and the double-drive models are like sailing a super-tanker! I had heard a lot of really good fuel, comfort and reliability reports about DAFs from friends in transport and decided to talk to my local dealer, Ford & Slater, about them. I had just bought a couple of Swedish six wheelers with rear steer as part of our general expansion plans, but when it came to a new eight-wheeler I was determined to see what all the fuss was about and try a DAF CF 410 and particularly the tridem configuration."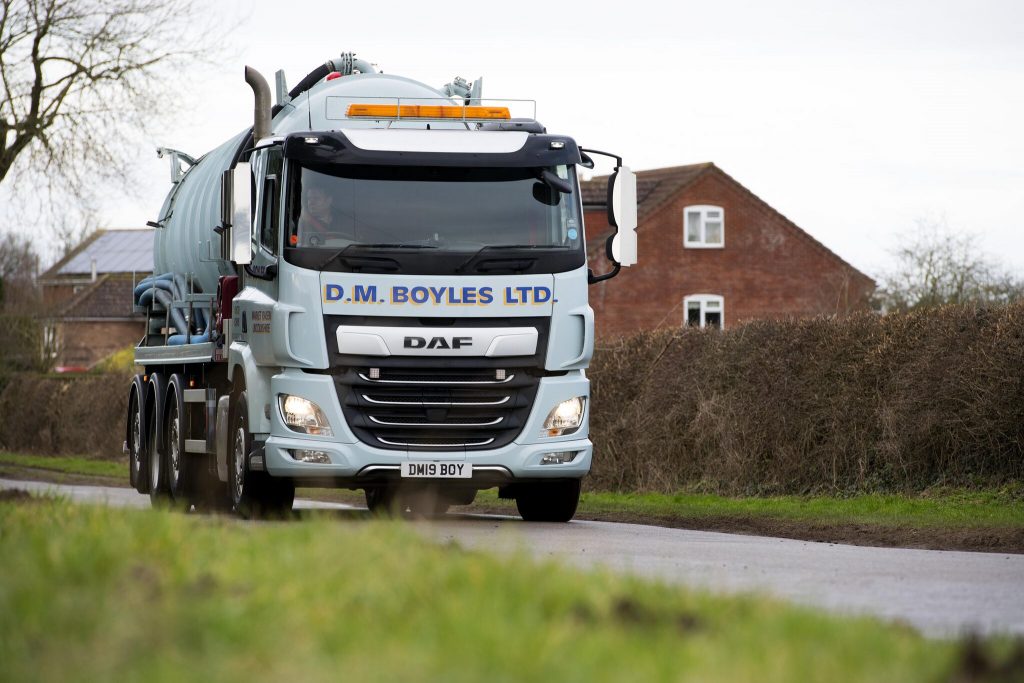 DM Boyles buys its trucks outright, so with a top-quality stainless steel tanker body and all the associated pumping and other PTOs in place, the value of the latest eight-wheeler is close to £200,000. However, the use of stainless steel allows Whale Tankers to reduce overall body weight as the barrel construction can be handled using 4.00mm thick material. The stainless steel also extends tanker life as there are no corrosion issues.
If you're a fan of tippers, tankers or trucks in general then be sure to make it to Tip-Ex & Tank-Ex in Harrogate from the 28th to the 30th of May. Truck & Driver is hosting a special display of trucks on Saturday 29th, so if you'd like to put your tipper or tanker on show, and get a superb BBQ lunch and some beer tokens, get in touch via [email protected]

We hope you enjoyed this article! For more news, views and reviews on all aspects of the truck driver's life subscribe today.