Police launch new crackdown on drivers who use mobile phones at the wheel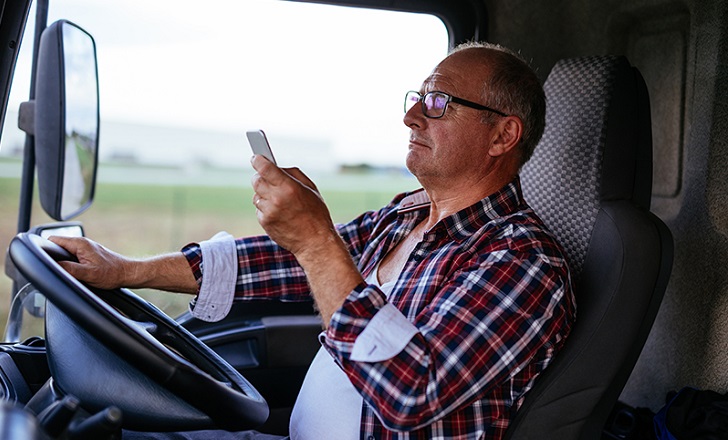 Police forces in England and Wales have launched a new week-long national clampdown on drivers of all types of vehicles using their mobile phone at the wheel.
From today [22 January], officers are conducting targeted patrols using unmarked vans, high vantage points and helmet cams to catch offenders. The last operation in July 2017 saw more than 8,000 drivers stopped and 2,595 offences detected.
It is illegal to use your phone while driving – including if you are stopped at traffic lights or queuing in traffic – unless you have hands-free access, such as a bluetooth headset, voice command or a dashboard holder, according to the www.gov.uk website. Even if you are using hands-free, the police can stop you if they think you're not in control because you're distracted and you can be prosecuted.
Legislation introduced in March 2017 means those caught can receive six points on their licence and a £200 fine. You can also be taken to court, where the maximum fine for a HGV driver is £2500.
Early indications show that the new legislation is having an impact with about 11% fewer drivers stopped in the three months post-legislation than in the preceding three months.
In 2016, 32 people were killed in road traffic collisions where the driver of the vehicle was using their mobile phone, according to reports from the Department for Transport.
Related news: Call for training to stop LGV drivers using mobile phones at the wheel
National Police Chiefs' Council Lead for Roads Policing, Chief Constable Anthony Bangham said: "Nearly a year on from legislation to toughen the sanctions for using a phone at the wheel, we are seeing some change in driver behaviour but there are still too many people underestimating the risk they take.
"If you glance at a phone for even 2.3 seconds while driving at 30mph you miss 100ft of road. That is the equivalent to the length of Boeing 737.
"Drivers, put safety first and keep your eyes on the road. If you do use your phone at the wheel, don't be surprised to be stopped by police and to receive a fine and points on your licence."
For more news and in-depth features subscribe to Truck & Driver magazine here
We hope you enjoyed this article! For more news, views and reviews on all aspects of the truck driver's life subscribe today.