Strongmen with disabilities set five truck pull world records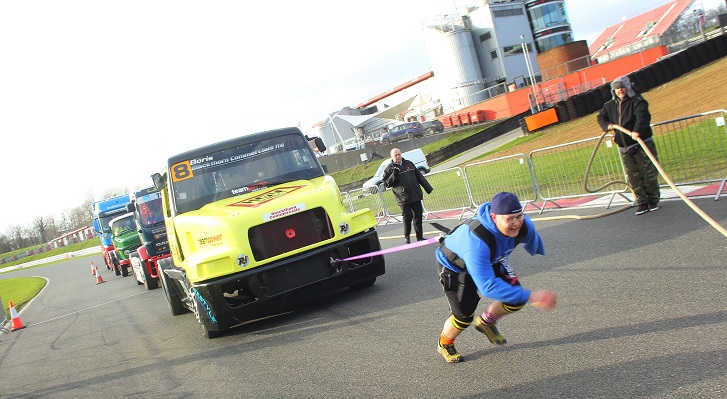 Five new world records for pulling trucks were set at Brands Hatch in Kent on Wednesday [17 January] by strongmen with disabilities.
Nine athletes with disabilities ranging from missing limbs to cerebral palsy were at the Kent circuit with Arnar Már Jónsson, founder of the World's Strongest Disabled Man contest, to attempt to pull trucks in tandem with a total weight of more than 20 tonnes.
Athletes pulled two, three or four trucks simultaneously using seated or standing techniques depending on their disability, covering a distance of 20 metres marked out on the track.
Mark Smith, an ex-serviceman and twice winner of the Britain's Strongest Disabled Man title, set the record for pulling two trucks seated in 24.35 seconds.
Meanwhile, Michael Bishop, who has the brain condition ataxia and has been runner-up in World's Strongest Disabled Man, set records in two categories. He pulled 3 trucks (standing) down the course in 18.05 seconds and 4 trucks in 27.4 seconds.
Elsewhere, Darren Greenfield, an amputee after a car crash and who has placed in the top three in all strongman competitions entered, pulled three trucks (seated) down the course in 22.4 seconds.
Finally, Martin Tye, an ex-serviceman, injured in Afghanistan and who was 2nd in 2017 World's Strongest Disabled Man and is an Invictus Games regular, pulled 4 trucks (seated) in 26.42 seconds.
Jonsson, who created the contest in Iceland in 2002, said: "It was an amazing day. Unbelievable. When I started this so many years ago I never believed I would be at a race track watching these guys pulling these all trucks. And we put more and more trucks, and they pulled them. I think we are out of trucks to pull!"
The record attempt was a warm-up for a strongest disabled man qualification heat, which will take place at Brands Hatch on Monday 2 April during the British Truck Racing Championship. Athletes will compete in several disciplines as well as truck pulling, including log lift, giant dumbbell and Hercules hold.
You can read about the British Truck Racing Championship 2018 season in Truck & Driver – to subscribe, click here
We hope you enjoyed this article! For more news, views and reviews on all aspects of the truck driver's life subscribe today.