RGVA Vehicle Graphics win British Sign Awards gong for Convoy in the Park truck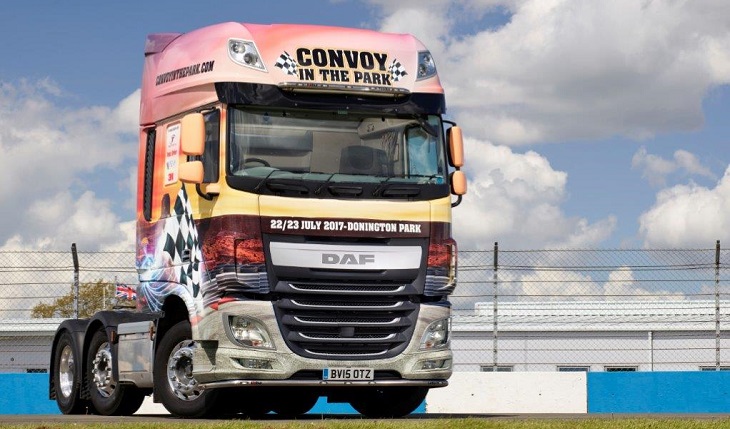 RGVA Vehicle Graphics has scooped the Wrap of the Year award at the British Sign Awards for its work on the Convoy in the Park truck.
The Daf XF Euro 6 truck was seen on roads up and down the country in the weeks leading up to the Convoy in the Park festival, which was held at Donington Park on 22-23 July. Readers of Commercial Motor and Truck & Driver had the opportunity to win tickets to the event if they spotted the truck and sent a picture in.
RGVA, which uses 3M film for its wraps, took two days to complete fitting the wrap to the truck. The company had taken the job from an initial hand-drawn idea through the design and printing process and on to the final wrapping of the truck.
Kieran McCabe, managing director of RGVA, said: "We're all incredibly proud to be awarded Wrap of the Year at the British Sign Awards. It was a fantastic project to be involved in and a great example of how our team of specialists work together to deliver a clients brief in every stage of the process. It's great for the RGVA team to be recognised as one of the best in class in delivering high quality, show stopping vehicle graphics."
The British Sign Awards, which are run by the British Sign and Graphics, the independent trade association that represents the interests of the UK industry, seek to shine a light on British sign makers and provide a showcase for the 'Best of British'.
We hope you enjoyed this article! For more news, views and reviews on all aspects of the truck driver's life subscribe today.