Scania Trucks in the USA…a REAL piece of 'trucking history' on Biglorryblog!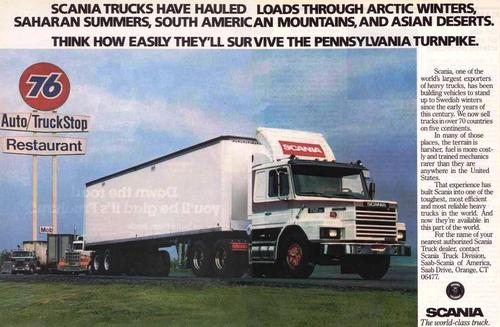 Last one for tonight and believe me when I say this is a REAL piece of history. It's a genuine double-page spread ad for Scania from the American trade press of October 1985 when the Swedes were trying to break into the North American truck market . And it comes to me from my man with the scanner in the good old US of A. And who is this person Biglorryblog I hear you ask? Well I can tell you that it's none other than my old mate Paul Richards, former editor of Commercial Carrier Journal and now busy working as a freelance auto/truck writer. And how did the Americans take to the big Viking? Click through here to find out what happened from Paul…
Paul tells me that back in the mid-'80s "The 112M was subjected to a fleet evaluation, and US fleetmen were impressed by how robust it was, one noting that it was 'built like a brick out-house'." (Well actually Paul said something other than 'out' but you get the pcture! He continues: "In fact it was TOO robust,as it turns out. The unladen weight was considerably more than American operators were used to. This was bad for heavy-haulers, who typically 'gross out' before 'cubing out' (we're limited to 80,000lb gross combination weights here, except by special permit). So the heavier the truck itself, the less weight can be transported per trip. It was also less than ideal for 'balloon-freight' haulers, who deemed it more truck than was necessary for their mission. So that liability, combined with Scania's limited, Northeastern distribution and support infrastructure, ultimately spelled the end of their efforts in the US." The rest, as they say, is just history. And considering how the US market has turned out lately who's to say that today's Scania executives aren't unhappy that they're forefathers weren't successful…? OK so there's a lot of double negatives but you know what I mean! Finally I seem to recall that Charles Rabbage was the man sent over to market the Scania over in the US…before he returned to Milton Keynes.
Filled in the Biglorryblog reader survey yet? If you have you'll automatically be entered into a prize draw with a chance of winning £500! All you have to do is either click on the BIG RED BUTTON on the top right hand of the page or click on this quick link http://tiny.cc/mtvzB So what are you waiting for?
We hope you enjoyed this article! For more news, views and reviews on all aspects of the truck driver's life subscribe today.