Today's the day the latest issue of Truck & Driver is officially on sale – you can't miss it, it's very yellow. Apologies to anyone who might still be waiting – a fire at the printers held it back a bit. The cover story is driving for Astran, and veteran Middle East driver Gordon Pearce recounts his days on, and off, the road. As an extra treat for Middle East fans, there's a chance to win the latest Tekno model of an Astran Scania 140 drawbar rig. Staying on the retro theme, we look at a 40-year old Scammell Crusader that's still earning its keep.
Ed's Choice is Graham Poole's MAN, a fitting tribute to the memory of his niece, Kelly, we have a look at a franchised tipper driver who proves you can still be individual, and Global Trucking looks at Cuba and Bolivia. We drive the new Volvo Dual Clutch transmission and have a head-to-head between the latest Mercedes-Benz Actros and Volvo FH.
There's an update on diabetes and truck driving and a look at how the latest court ruling on overtime and holiday pay will affect, and our newest columnist, star of TV and the hard shoulder, former PC Steve Rounds, describes the state of modern roads policing.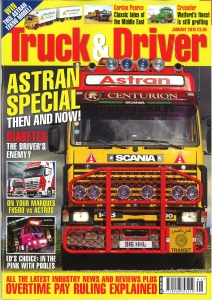 We hope you enjoyed this article! For more news, views and reviews on all aspects of the truck driver's life subscribe today.