Tesla launch new Semi truck, promising better experience for drivers and reduced costs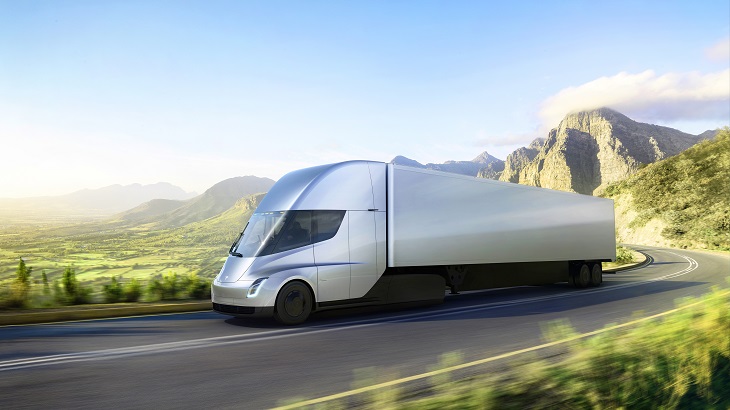 Tesla has unveiled its electric truck, the Semi, which it says will deliver a better experience for drivers as well as reducing costs.
Tesla say that without a trailer, the Semi can go from 0-60 mph in five seconds, compared to 15 seconds in a comparable diesel truck. Even when carrying a full 80,000lb (about 36,280kg) load, Tesla say the truck can reach 60mph in 20 seconds. In addition, Tesla claim that it can climb 5% grades at a steady 65mph.
The Tesla Semi has a regenerative braking system, which recovers 98% of kinetic energy to the battery, giving it a basically infinite brake life.
For drivers, the Semi's cabin has unobstructed stairs for easier entry and exit, full standing room inside, and a centred driver position. Two touchscreen displays positioned symmetrically on both sides of the driver provide easy access to navigation, blind spot monitoring and electronic data logging.
In terms of charging, Tesla's solution is the Megacharger, which the company said is a new high-speed DC charging solution that can add about 400 miles in 30 minutes. Tesla say this could be installed at origin or destination points or along routes, enabling recharging during loading, unloading, and driver breaks. However, this charging infrastructure currently doesn't exist.
Tesla also claim that, due to having fewer moving parts than a diesel truck – namely no engine, transmission, after-treatment system or differentials to upkeep – the Semi requires significantly less maintenance. In addition, Tesla says its battery should last for more than one million miles. Likewise its motors, which are derived from those used in the Model 3, should also last for more than one million miles.
The Semi is scheduled to go into production in 2019, so drivers will have to wait some time to get the opportunity to drive them.
We hope you enjoyed this article! For more news, views and reviews on all aspects of the truck driver's life subscribe today.