The famous Foden 12-speed gearbox…cutaways, shift diagrams and 'end-users' on Biglorryblog!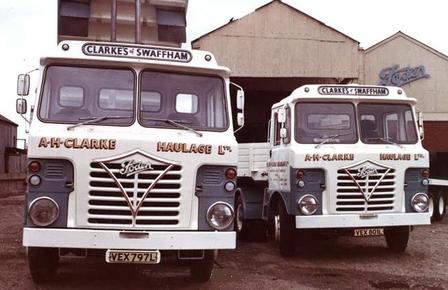 Well it was only a matter of time before the 'classic gearboxes' thread on Biglorryblog turned to Foden and its much-loved 12-speed (at least by Nick Santon)…and this is just one fo the trucks that featured a 12-speed, the S80. And I have John Ormandy to thank for supplying this shot to me from his excellent photo galleries. "As mentioned, all the S80s in this album are/were fitted with the Foden 12-speed box type 5DP" says John. You can see more S80s http://picasaweb.google.com/johnanitra/FodenS80SeriesCabsWorkInProgressMorePhotosTitlesToFollow?feat=email# But what of the 12-speed box I hear you cry? Well click through here for a cutaway and BLB reader feedback!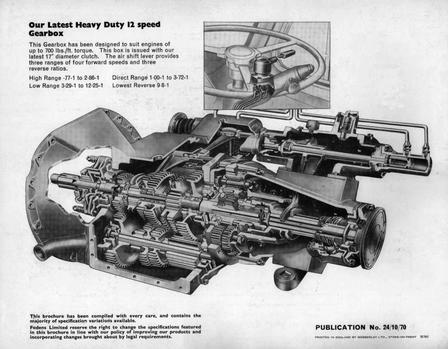 And here's a great cutaway of the 12-speed (again from John O) of the box in question..saved in 'Expando-Vision' "Does this help?" he says, "X-ray view of Foden 5DP 12-speed 'box from Fodens Ltd 1970 brochure 'Standard Range of Goods Vehicles"."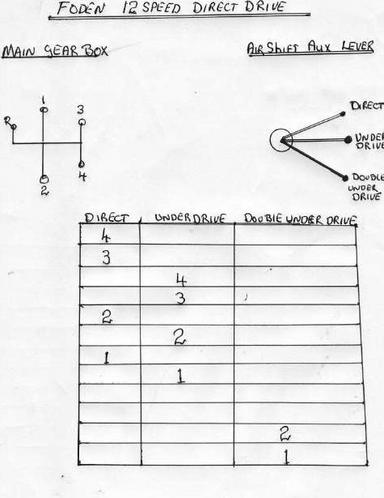 Peter Hallagan sent this to me and he says: " Hi Brian, attached is a drawing,from memory, of the gear-change sequence of 12-speed Foden Direct-Drive epicycle gear box that was fitted to an S.34 cab,Mk7 2-stroke Foden that we ran in the mid 60s to the mid 70s.You will note that only 10 gear changes are shown here as the other 2 were not practical to use. Maybe the other Foden experts out there will be able to put the missing change pattern in the right sequence.Of note, at that time we also ran a Cummins-powered ,S.40 Cab Foden that had a 12 speed Foden Overdrive epicycle gear box and the gear change pattern was also unusual but it was a lot easier to master than the earlier truck, cheers PVH."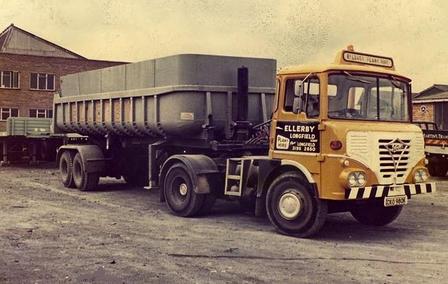 And here's another kite-marque truck with a 5DP Foden 12-speed from John O's S40 gallery at http://picasaweb.google.com/johnanitra/FodenS40SeriesCabsAlbumInProgress?feat=email#
John comments further: "Hi Brian, I only started as a Foden Salesman in 1970 by which time the 12-speed overdrive (model 5DP) was the standard offering. The operation was (as per PVH's drawing) by using the main gearstick (left hand!) to operate the 4-speed (plus reverse) main box in a conventional shift pattern, whilst using the dash-mounted 3-position air lever with the right hand. The air lever selected Low, Direct & Overdrive by this time." I asked John if there was ever a 'manual' version and he replied: "Earlier in the '60s there was a second manual left-hand lever to operate the range changes suggest. Luckily, I never had to cope with that version! Later (I think co-inciding with the S80 cab) the righthand air lever was replaced with the red 3-position lever integral with the main gearknob."
"I can't comment on the shift pattern of the 12-speed direct-top double-underdrive 'box, but the 12-speed overdrive I am familiar with had a different recommended sequence going up the 'box (using 11 gears), to that recommended for going down the gears! I've been trying to find the printed diagramatic instructions to explain this, but unsuccessfully, so far! Hope this helps. T'other Brian may have more info on pre-1970 Foden boxes? Regards, John O."
We hope you enjoyed this article! For more news, views and reviews on all aspects of the truck driver's life subscribe today.