The return of the 'Super' Scania V8….What's going asks a bemused Biglorryblog?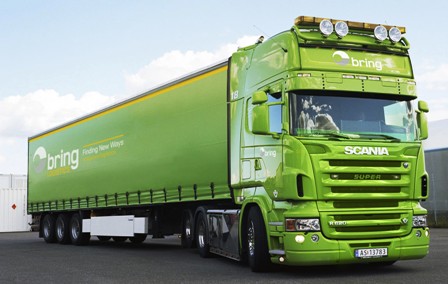 Curioser and curioser… Take a look at the photo of this big green Scania and tell me what's not quiet right with it… And while you're doing that I'll tell you that it accompanies the latest press release from Scania which describes how the Swedish truck maker has just signed a three-year deal with Norway Post to supply it with all its trucks about 15 tonnes – one of Scania's largest truck order ever in the Nordic countries… The agreement will cover rigids and tractors with 9 or 13-litre Euro-5 engines that will be operated by transport companies in Norway Post's Logistics and Bring business divisions. And the big green V8 620hp artic (they must have some pretty heavy letters in Norway…) pictured above belongs tof Brings.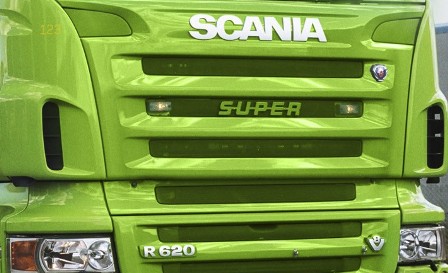 Well so far so blah Biglorryblog I hear you say—but the odd thing about it is that it has a 'Super' badge on the grille as you can clearly see. Now call me an old anorak but surely Scania hasn't used the 'Super' badge on its trucks since the days of the old 110, 110 and 140s. Or did the 'Super' sign last longer? Speak up Scania fans please. So is this a return of 'Superlative' badging on trucks from Sodertalje… Or did the owner of this Topline have an old 'Super' sign and the odd bit of glue handy and just fancied giving his big green machine that extra special touch? Meanwhile if you don't believe me click through here for a classic 'Super' Scania…
See what I mean?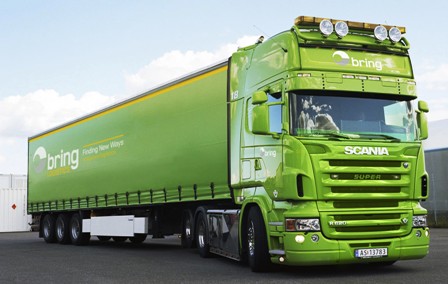 And while I'm at it from this phto you can clearly see the longer artics allowed in Norway—considering how far back that rear bogie is I bet it's fun to get around a mini roundabout!
We hope you enjoyed this article! For more news, views and reviews on all aspects of the truck driver's life subscribe today.