Transport associations hit out at M6Toll charge hikes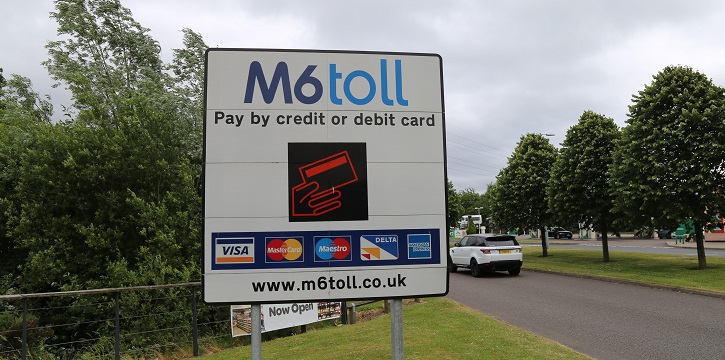 Midland Expressway's decision to increase charges on the M6Toll from the end of July has been criticised by leading transport associations.
From 6am on 30 July, prices will rise by 20p-50p for HGVs, depending on the journey made, and by 10p-30p for light goods vehicles. Prices will remain the same for night time journeys for all light and heavy goods vehicles. Prices are also increasing by 30p-50p for cars.
This is the first price rise for goods vehicles since 2012, Midland Expressway said. In addition, HGV use of the M6Toll increased by 17% last year.
Andy Cliffe, chief executive of Midland Expressway, said: "We are committed to encouraging more vans and HGVs off the M6 and onto the M6toll and our price rises for commercial vehicles have been carefully set to ensure that we continue the significant growth in HGV traffic on the M6toll that we saw in 2017."
However, the move hasn't been welcomed by transport associations. The Road Haulage Association (RHA) said it was 'baffled' by the move. RHA chief executive Richard Burnett said: "For many hauliers the M6 toll road has never been the route of choice – they simply can't afford to use it. They must make every penny count and spending £11 pounds on a one-way journey, let alone using every day, is simply out of the question.
"So why have the Midlands Expressway decided to increase the rate for HGVs now – at a time when the price of diesel has just risen by another two pence per litre – adding over £800 per vehicle to a trucker's annual operating costs?
"Will an increase of 50p per truck making a daytime journey make that much difference to the toll road's bank balance? Probably not. But for many small hauliers who have little choice but to pay the toll on a regular basis, it could deter them from using the road altogether."
Chris Yarsley, the Freight Transport Association's policy manager for the Midlands, added: "While increases in transport costs are always unwelcome to the freight industry, this announcement is particularly concerning due to its impact on Birmingham's clear air agenda. The fee increase will encourage some HGVs to abandon the motorway and use those running through Birmingham itself. At a time when air quality in the city is a key priority for civic leaders – the Clean Air Zone consultation launches this week – we ask this decision be reconsidered for the greater good.
"While the toll increase is within inflation, the alternatives are free, so it will encourage more long-distance movements to use the traditional M6 through Birmingham. The M6 is a key route for UK logistics, and more effort should be made to encourage freight operators to utilise the tolled route away from the urban centre."
We hope you enjoyed this article! For more news, views and reviews on all aspects of the truck driver's life subscribe today.