The fight for facilities goes on – yes we still want your reports of companies denying access to toilets & handwashing. Companies who need trucks, please read this. Drivers, here's what we need from you.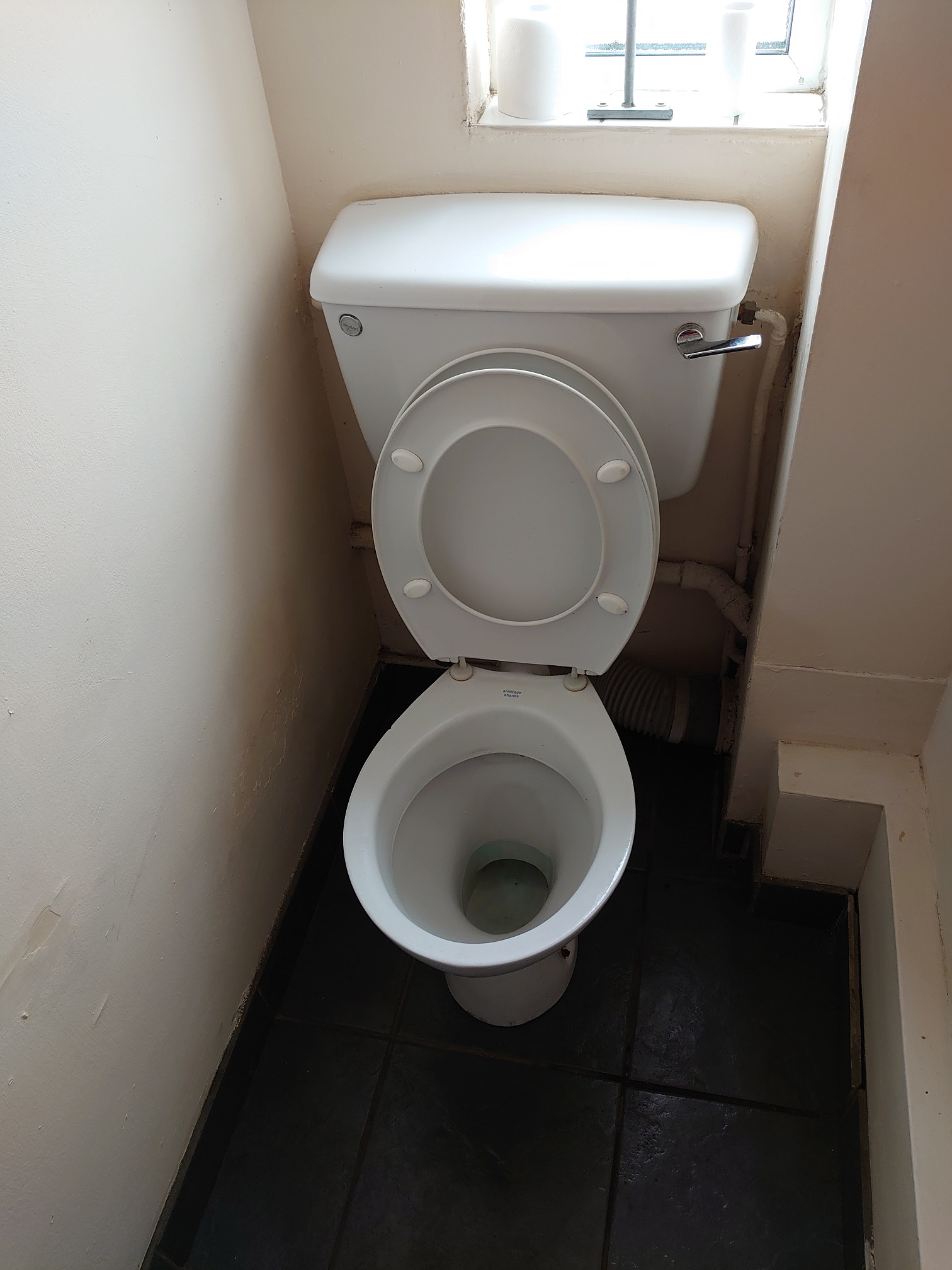 There are still a large number of companies who are either completely banning drivers from using toilet facilities when collecting or delivering from their sites or directing them to unsuitable temporary facilities.
This is illegal, and also morally wrong. No advice has been given to say it is the correct course of action, but many firms are resolute that they are doing the right thing, and are also quite bizarrely under the impression this is what the government or other authority has told them to do. The fact of the matter is, all the guidance says to do the complete opposite.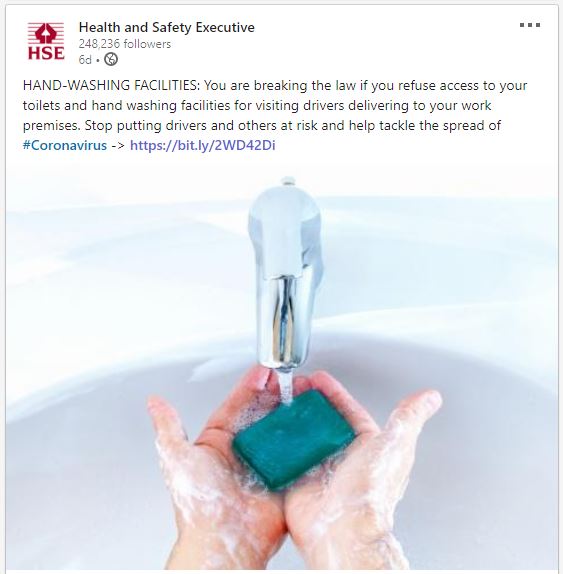 The Heath and Safety Executive –  Public Health England – The Office of the Traffic Commissioners
Have ALL issued clear statements making it very clear that drivers should be allowed access. In this environment, more than ever it's important for everyone to have access to proper toilets and handwashing. It is our opinion that the request for companies to "do the right thing" has not had the desired effect, and many simply do not care and do not think there will be any action taken against them. We suspect that this is going to be a real battle until some companies are held to account and prosecuted and fined, unfortunately.
It should be made clear that bringing in one or two portable toilets are not a legally compliant solution unless hot water for handwashing is available. We would also pose questions about how often these units are cleaned.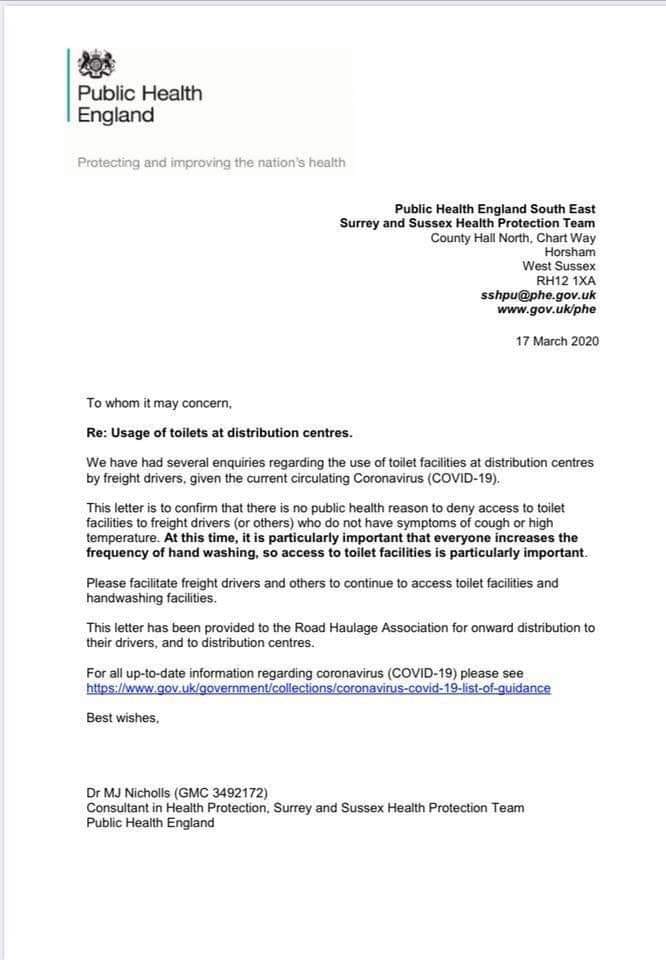 The sad and unpleasant truth…
We have had reports of drivers with disability cards refused use of toilets. Female drivers having to urinate in laybys and unable to dispose of sanitary products. Drivers defecating in bags in the cabs of their trucks. In many cases, the drivers are scared to lose their jobs – their bosses won't back them for fear of losing work. So it's not always a matter of us being able to "name and shame" but we will approach companies and we will report them for their actions. We are also forwarding the information to the RHA's Covid-19 reporting system.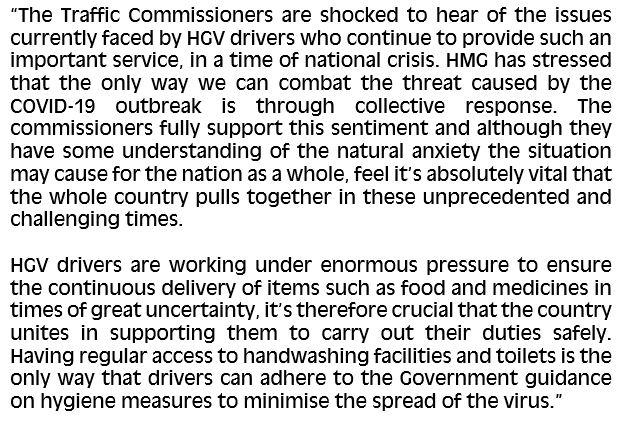 What we need from you: We need up to date, first hand accounts only with as many details as possible – all submissions are kept anonymous and we do not provide specific details to any companies we may approach. We cannot use screenshots from Facebook as the information cannot be verified and can often be outdated. As the Covid-19 crisis has progressed, situations can change on a daily or even hourly basis. Everyone has a great responsibility during this time, and more than ever, facilities that are available must be respected. Hauliers and drivers and the businesses that need them to be able to operate all need to support each other at this time – and of course beyond!
If you're denied facility access please email [email protected] and cc in [email protected] and we will try to help get the company to update it's guidance.
Relevant links:
https://www.commercialmotor.com/news/compliance/your-hgv-drivers-rights-gaining-toilet-access-when-delivering-third-party-sites
https://www.truckanddriver.co.uk/latest-stories/coronavirus-and-the-banning-of-hgv-drivers-from-toilets-you-can-now-report-to-the-road-haulage-association/
https://www.truckanddriver.co.uk/latest-stories/hgv-drivers-being-denied-access-to-facilities-during-the-covid-19-outbreak-what-were-doing-and-what-we-need-from-you/
https://www.lancashiretelegraph.co.uk/news/18309502.truck-drivers-hit-ban-using-toilets-firms-deliver-due-coronavirus/
https://www.thesun.co.uk/news/11203797/lorry-drivers-coronavirus-toilet-access/
We hope you enjoyed this article! For more news, views and reviews on all aspects of the truck driver's life subscribe today.