Trucks, tractors, cars and guitars – Truck & Driver speaks to Irish singer-songwriter Marty Mone about his life on the road and Scania R580 V8!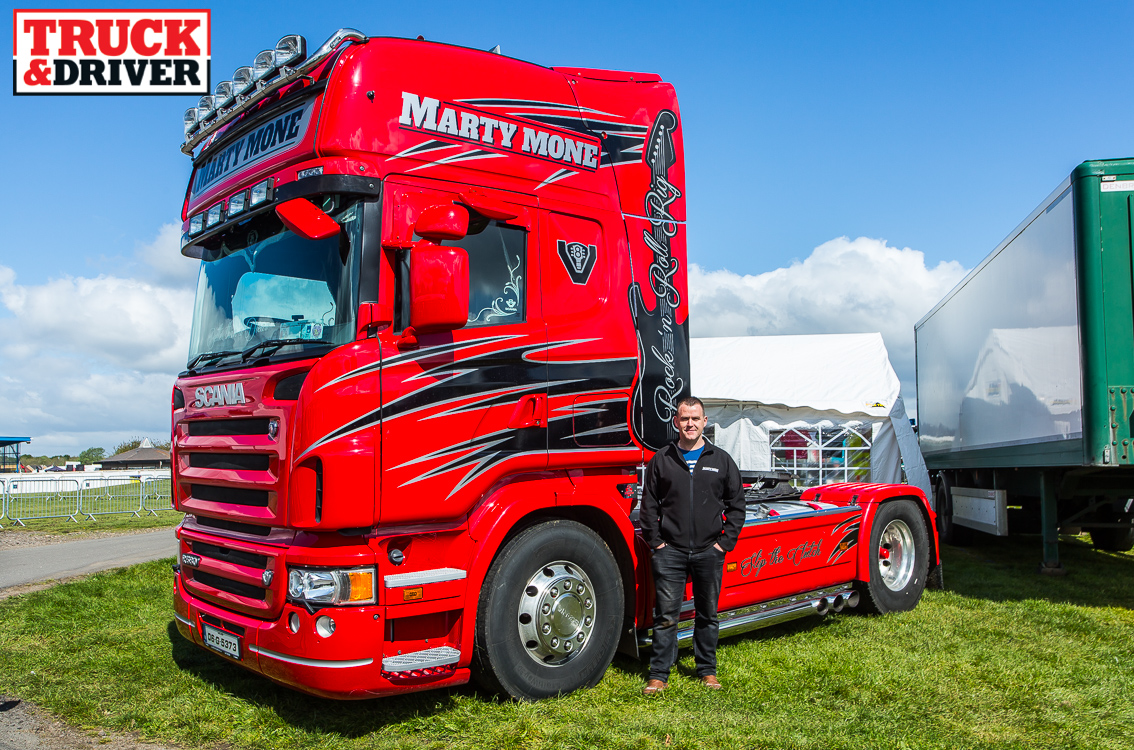 We caught up with Marty at Truckfest earlier this summer, to chat about his journey from driving tractors on farms to going viral on YouTube and playing live concerts to thousands of people at shows, festivals and events each summer.
Early days….
Marty got into music through one of his neighbours. "I started playing guitar when I was 8 years old, my neighbour had one and it started from there. I got my own guitar when I was 10 and when I was 15 years old I was in my first band" he told us from the driver's seat of his Scania R580 ealier this summer. The guitar was soon followed by shifting vehicles on a farm and working them as soon as his feet could touch the pedals.
"Around the same time I got my first guitar, I started driving tractors and lorries around the farm and doing a bit of work. So that went hand in hand with the music. By the time I was 18 I was driving through the week and gigging all weekend. I started on tractors and plant machinery, then onto tipper lorries. When I was on the diggers, I'd often go and collect my own sand or gravel with the tipper. I got my Class One not long after and began doing work on artics."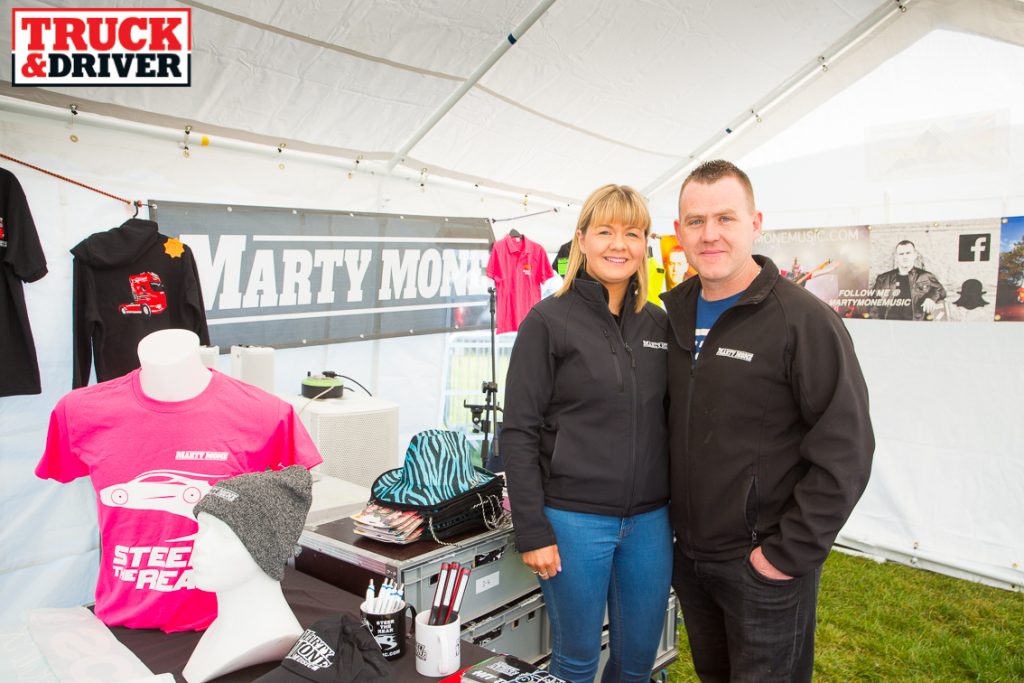 Hitting on a good idea…
Marty continued his mix of driving and music until he was 30 years old. "I would often be writing lyrics down when I was waiting to load, or ideas would come to me when I was driving – getting on down the road in a truck is always an inspiration." The first song to "really click" was Hit the Diff. Released right at the end of 2014, it was a song about tractors and farming. Not your usual subject matter and Marty admits he wasn't sure about it at first. "It was the craziest idea I had, a song about driving tractors, I wondered what the reaction would be and I thought, 'well it might be a laugh for a couple of weeks'… and then it just went crazy!" Aided by his self-produced video for the song on YouTube, Hit the Diff went viral over the next six months as Marty's farming song struck exactly the right note with a community that had previously not enjoyed something written directly for them. To date, it's had over 9000,000 views. An album of the same name was released in 2015. Marty writes, records and produces all his own material and has his own record label too.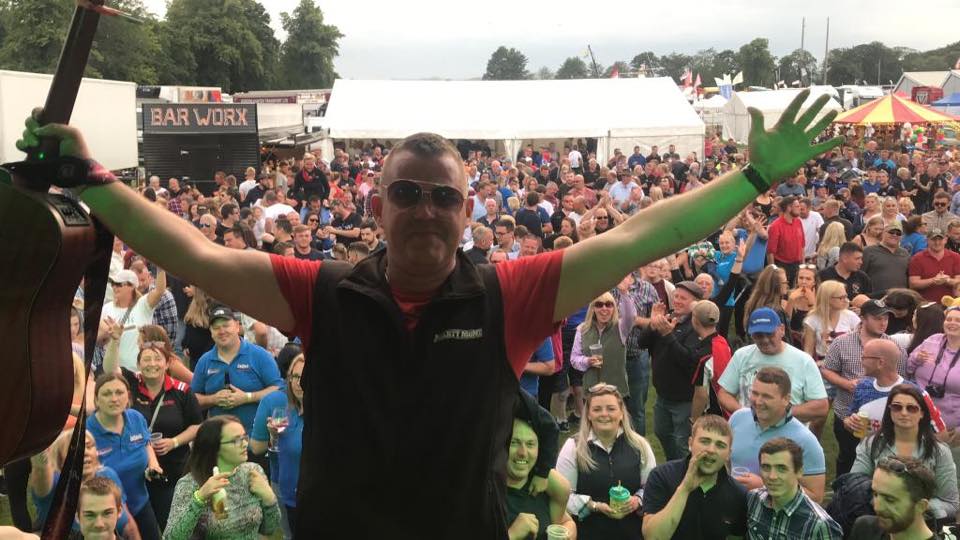 Born slippy….
"I knew I had to follow it up with something good after six months, so I wrote about trucks this time. With Slip the Clutch and I could never have imagined the reaction it got." Slip the Clutch is a standalone single, written from the view of a truck driver leaving home for the week and "heading for the boat". The song picks up on the romance and excitement of being out on the road, but also the sacrifices drivers make, being away from their loved ones and family. The video is filled with trucks, including some very impressive drifting action and has accumulated 6700,000 views on YouTube. It's his signature party tune at the many shows and events he covers over the summer, you could say it's Ireland's own Eastbound and Down. Both the videos continue to get 30,000 views each per week.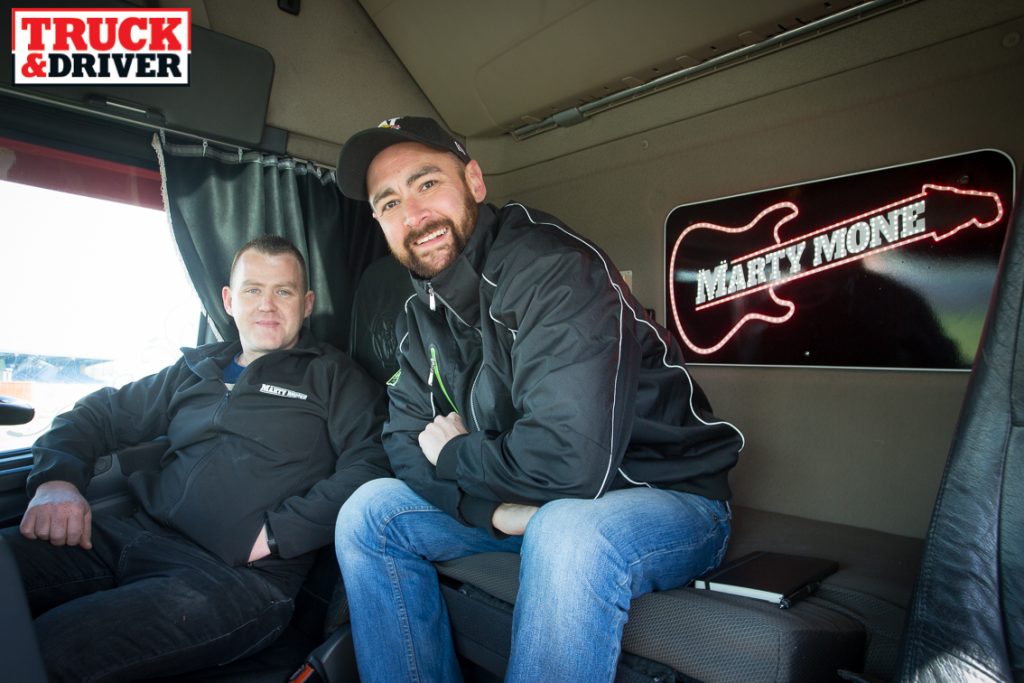 Flat to the mat….
A big change for 2019 has seen Marty put his own tour truck on the road, a Scania R580 Topline complete with manual box, sidepipes and alloys. "I had a two year break from the driving due to being so busy with the music, but now I drive the truck to all the gigs and it's fantastic – it's great to have the comforts on the road, it's so much easier than trying to pack stuff into a car." The truck is hooked into a trailer which is used for hauling band equipment, merchandise and can also be used as living accommodation.
"It's a brilliant centrepiece for the shows and events" he explains – Marty is booked up solid right through the summer months. Some shows it's just him and his acoustic guitar but other headline events he plays with a full band including drums, bass, electric guitar and even banjo and fiddle. The tour truck has been the perfect addition. "I always wanted a V8 Topline too, I got this converted from a three-pedal auto to manual box."
Tractors, trucks and cars….
Having written about tractors and trucks, Marty turned his attention to the other great cultural mainstay of Ireland; cars. The third in his trilogy, Steer the Rear came out in 2018, released as part of an album bearing the same name. "Cars, drifting and rallying have a huge following in Ireland and I figured it was time to celebrate that, we had an amazing time making the video too." Hit the Diff, Slip the Clutch and Steer the Rear have brought Marty three big hits and two albums and now, as the show season draws to a close he's looking toward the next chapter.
Tattoos….
Better than a Dream is a love ballad written by Marty that appeared on his debut album. Away from the high-tempo uproar of the hit singles, the song has quickly become a popular choice as a first dance at weddings. "I've had guys come up to me to show me the lyrics they've had tattooed. It's really amazing to think my music can mean so much to someone that they'd want to do that, it means a lot."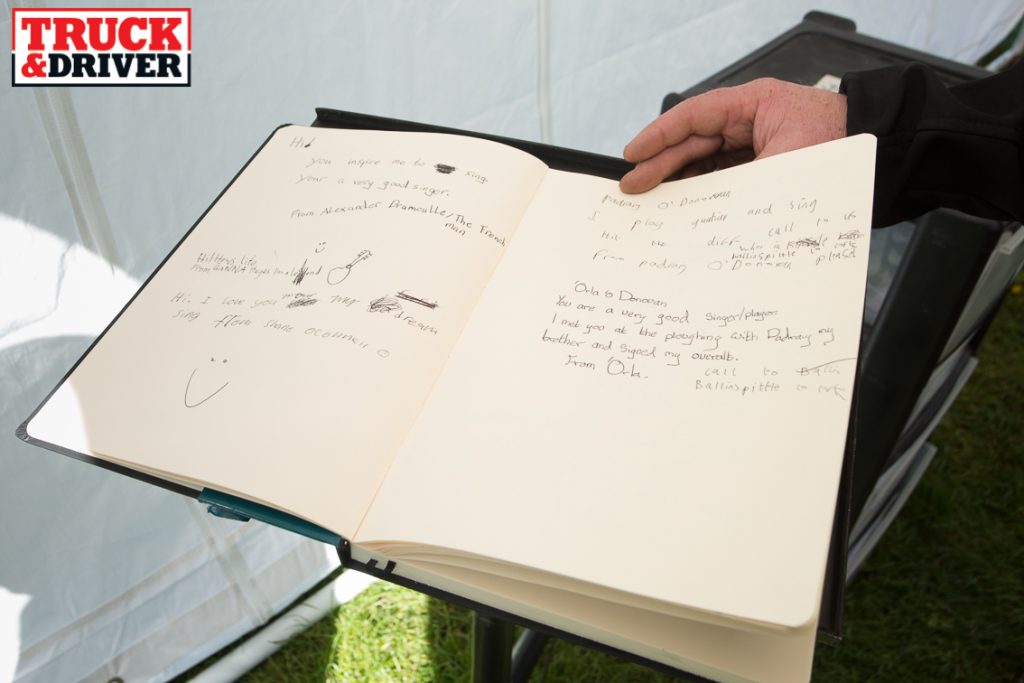 Sign me up….
When Marty isn't performing at shows, he'll be at his stall along with the truck and a wide selection of merchandise. It's non-stop as he poses for pictures with parents, kids, grandparents, truckers, admirers and even pet. He can't do enough for his fans, especially the young ones. "There's kids as young as four asking me to sign autographs and I think to myself, when I started out they weren't even born. It's nice how the parents get into the music and pass it onto the kids – the fans are the people who make all this happen."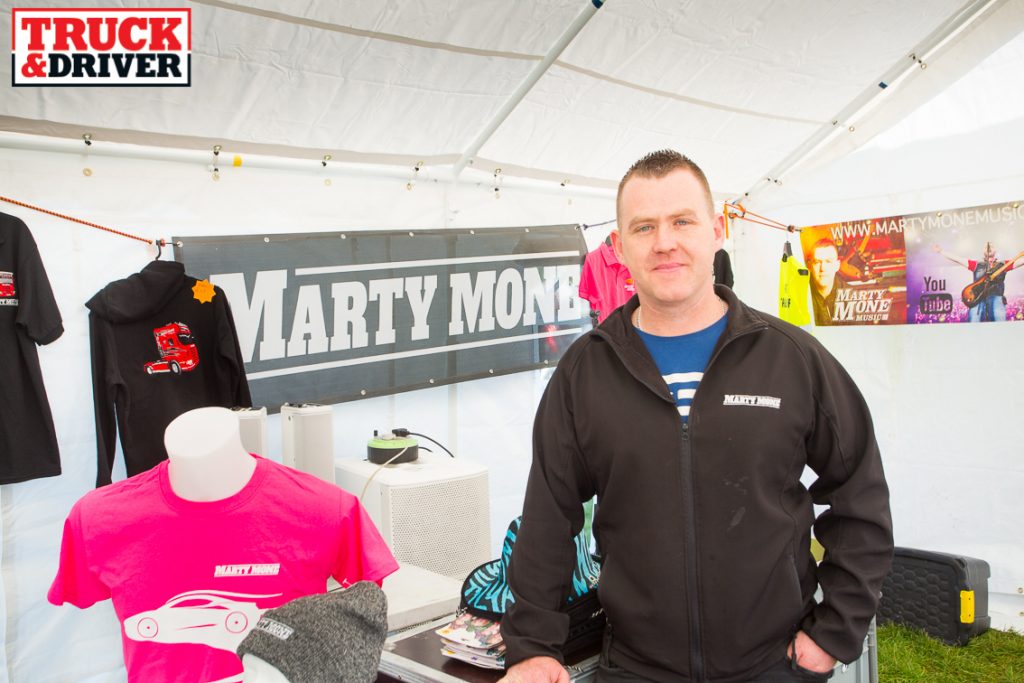 You can't fake it…
The thing about truck driving is, if you haven't done the job, experienced the good times of summer days and open roads, the frustration of delays, the exhaustion, the sacrifices… then you can't truly write about it the life. "It's a popular phrase, that driving 'isn't just a job it's a lifestyle'. I think the fans appreciate that I'm from the same place they are and they relate to it. I'm not faking it; you can't know the mix of emotions you feel when you head for a boat and away for the week if you haven't done it, the excitement but also sometimes the sadness. I draw a lot of inspiration from driving, it's been brilliant to be back driving the tour truck. The stuff you see on the road, and at the shows and festivals, the craic, gives me the best ideas to write."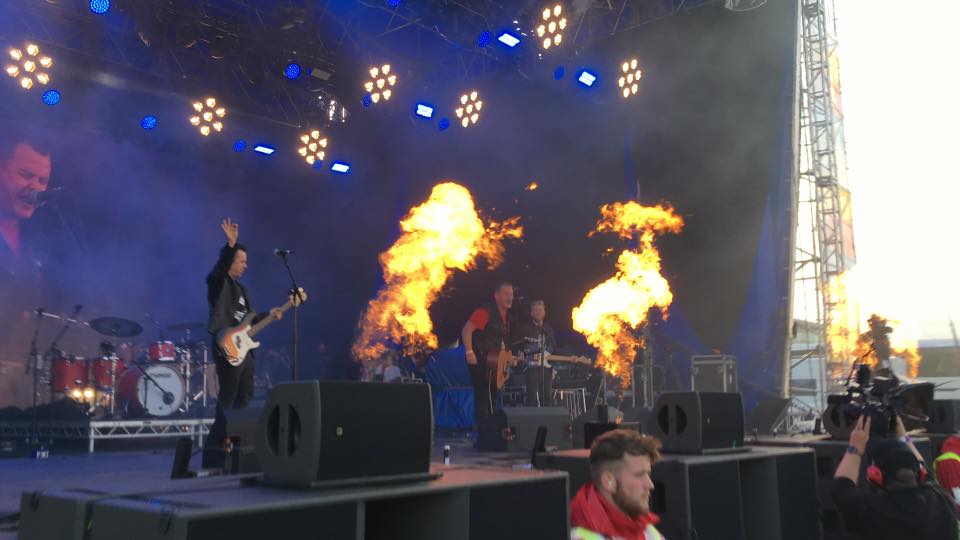 The legacy of Smokey…
If you think about all the trucks on the road, the amount of them that go to shows over the summer, the amount of people that come through the gates at events, the industry, its people, and the culture, it's no wonder Marty Mone's music has struck such a chord. Nobody else is doing what he's doing.
The two most famous truck films of all time, Smokey and the Bandit and Convoy were released within a year of each other, just over 40 years ago. "People love and talk about those films and you still hear the theme songs. They're still so popular after all this time. I think it's interesting that Kris Kristofferson was a singer before he was an actor, and so was Jerry Reed!" Hey, if anyone wants to start crowdfunding a film about the adventures of British and Irish truck drivers, T&D will be well up for supporting it. We're sure Marty could write a good theme tune for it….
Coming soon…
With two albums of original material and a unique three song trilogy celebrating tractors, trucks and cars under his belt, Marty is pressing ahead with his next project in September. "The summer months just fly in, especially so this year, it's been the best yet. Autumn and winter will be a time for putting new material together so watch out for that."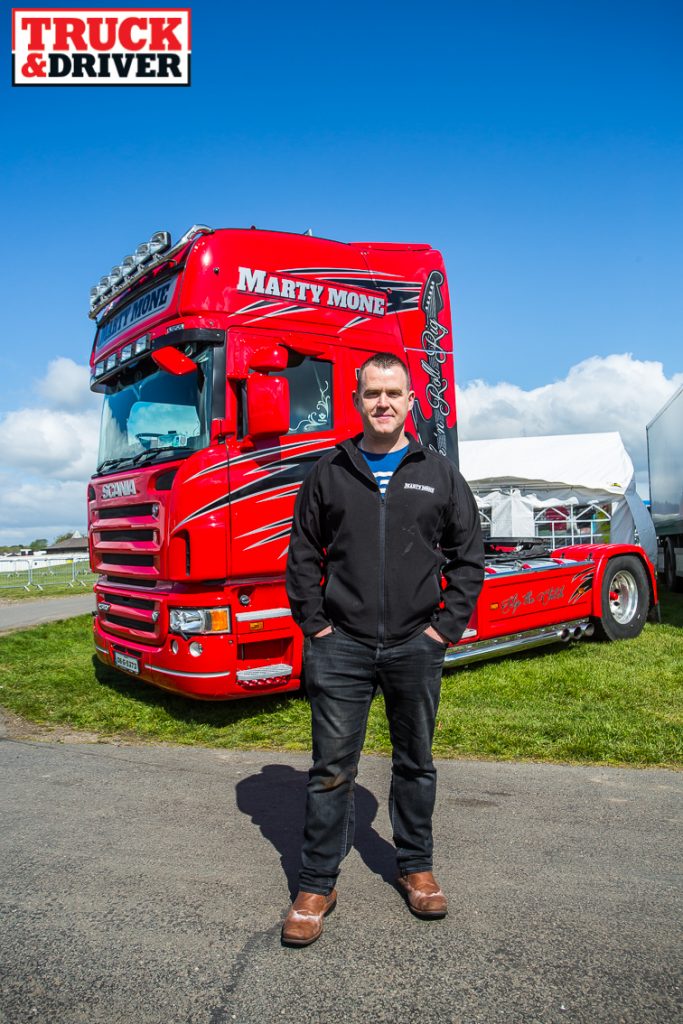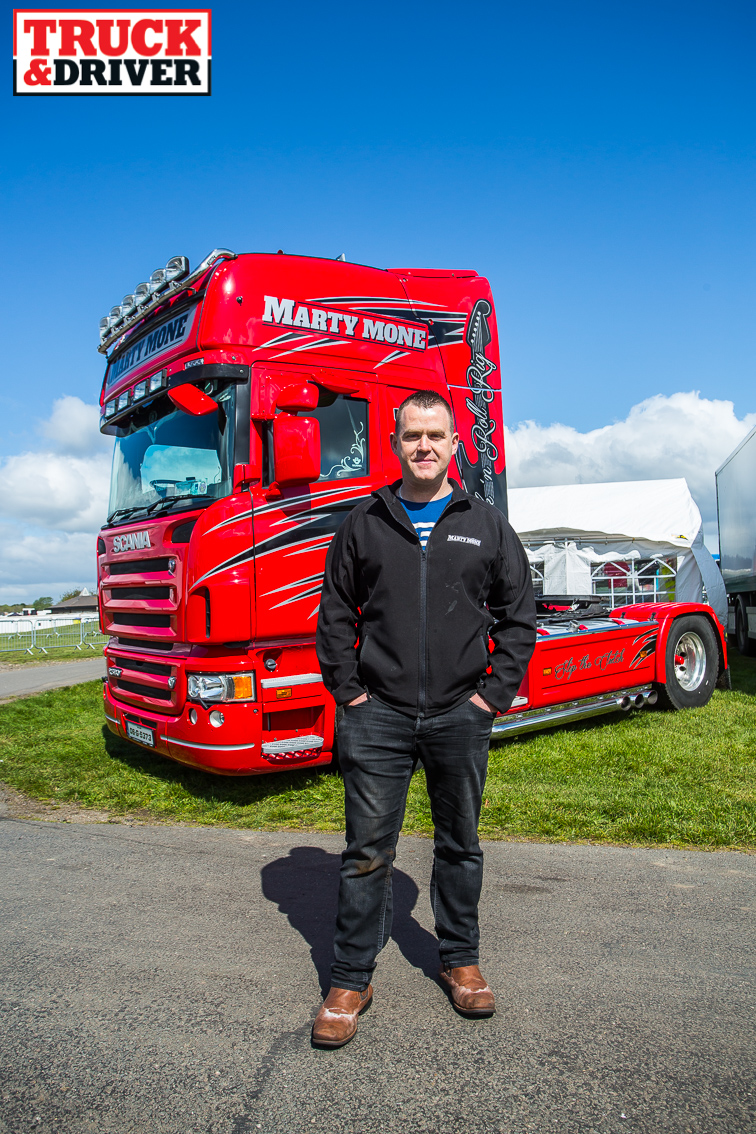 We hope you enjoyed this article! For more news, views and reviews on all aspects of the truck driver's life subscribe today.