Truck press release round up: New trucks from Iveco, DAF, Volvo, Renault and Mercedes-Benz and an ERF book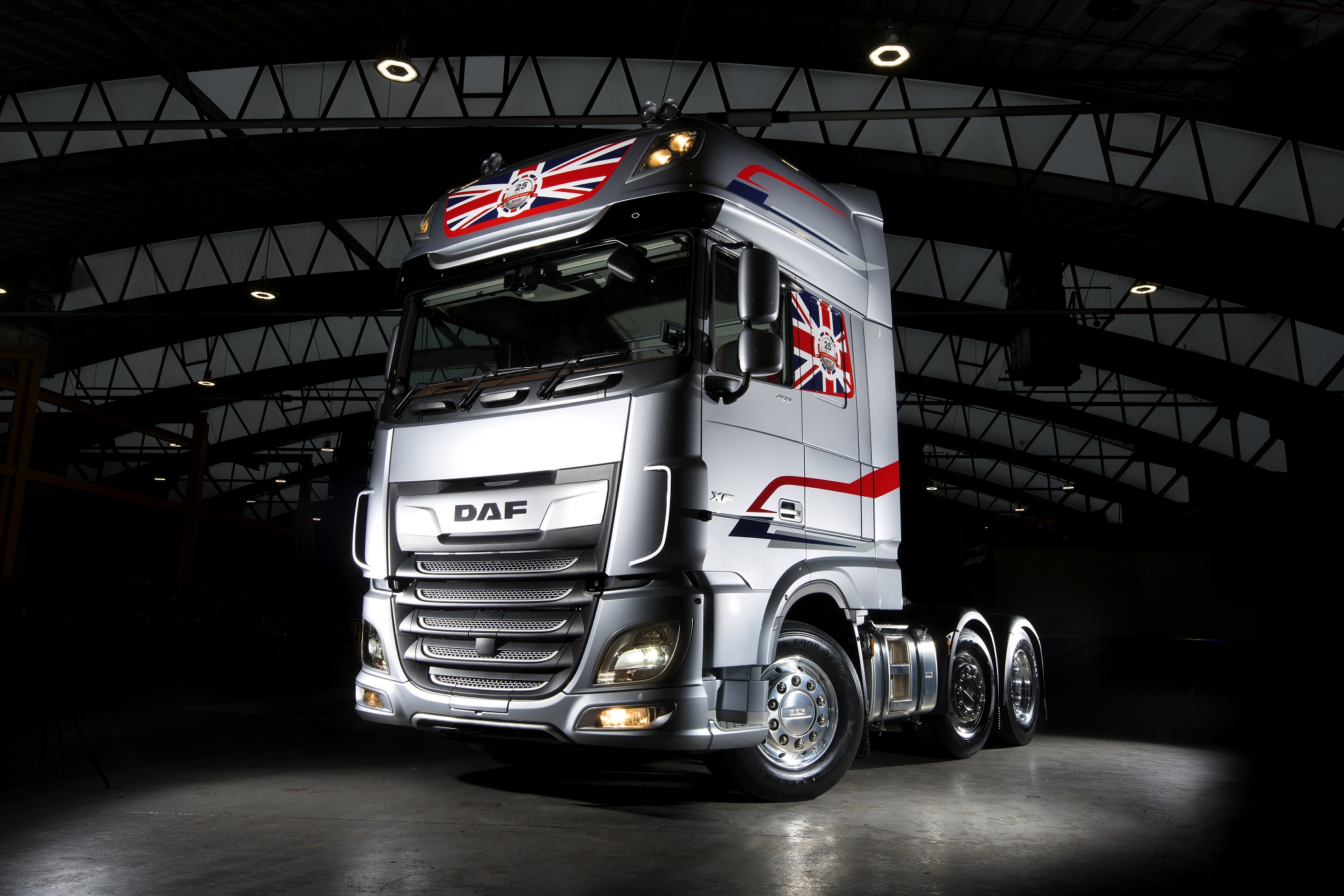 Here's some of the best bits from a number of press releases that have dropped into our email inbox over the past week or so.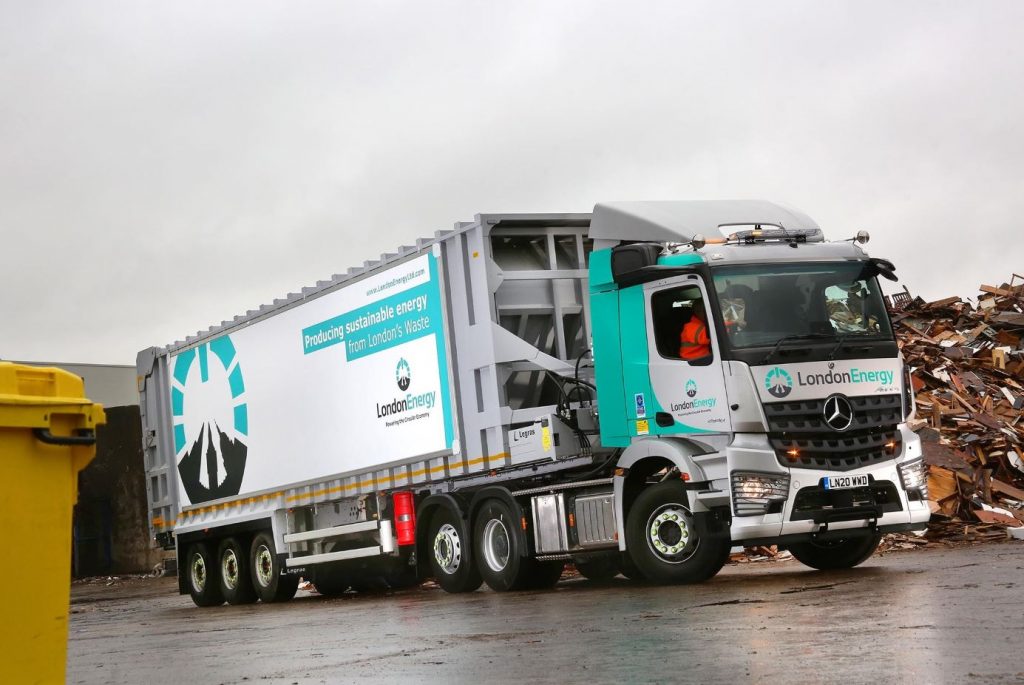 NEW MIRROR CAM AROCS FOR LONDON ENERGY
Five new-generation Mercedes-Benz Arocs with MirrorCam sharpen LondonEnergy's safety focus
The five trucks and their bespoke Legras (France) bulk trailers – four ejectors and a single walking floor – represent a total investment by the North London-based company of some £1.5 million.
The muscular Arocs will spend most of their time working between the flagship waste-to-energy plant on LondonEnergy's 40-acre EcoPark head office site in Edmonton, and a household reuse and recycling centre in Islington.
All 2548 models with ClassicSpace M-Cabs, they have 12.8-litre in-line six-cylinder engines that produce 350 kW (476 hp), and lifting tag axles for enhanced manoeuvrability. They also left the factory with uprated 8.0-tonne front axles.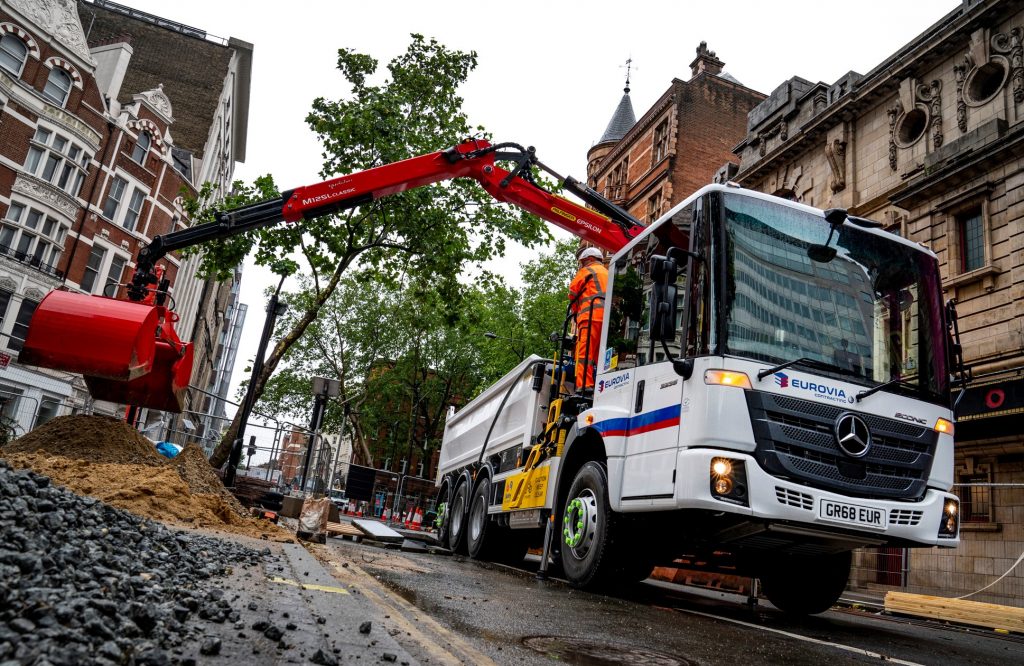 EUROVIA'S FIVE STAR VISION RATED ECONIC
The safety of its staff and other vulnerable road users was the overriding priority for infrastructure leader Eurovia Contracting when it decided to base its latest 32-tonne tipper-grab on a Mercedes-Benz Econic.
Like all Econics, Eurovia Contracting's new truck has the low driving position and deep, panoramic windscreen which combine to provide drivers with an unrivalled field of vision.
These attributes have earned the vehicle Transport for London's highest, five-star Direct Vision Standard rating. Eurovia Contracting, whose tippers and tipper-grabs operate in towns and cities nationwide, is certainly convinced of the safety benefits.
A 3235L ENA model, Eurovia Contracting's truck is powered by a 7.7-litre six-cylinder engine which produces 260 kW (354 hp), and drives through a 12-speed version of the fuel-efficient Mercedes PowerShift 3 automated manual transmission.
The truck is fitted with a Thompsons steel tipping body and, immediately behind the cab, a Palfinger Epsilon crane, which has a maximum capacity of 3,700 kg and can reach up to 8.2 metres.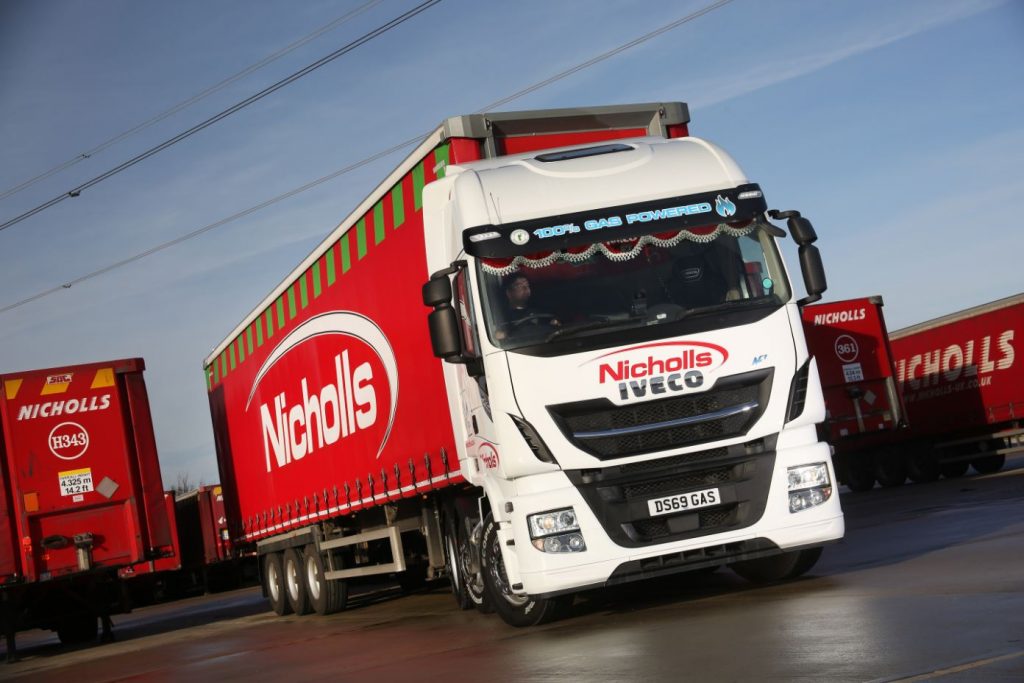 TEN NEW LNG STRALIS FOR NICHOLLS
Nicholls' 10 IVECO Stralis 12.9 litre Cursor 13 NP engines, delivering 460hp and powered by Liquified Natural Gas (LNG) have worked throughout the
Covid-19 pandemic transporting everything from paper and timber to food, bulk recycling and building supplies across the UK.
Darren Sherlock, finance director of Nicholls Transport sees a bright future for operators using gas trucks to deliver goods into large urban areas and when operating on longer trunking routes.
"We carry out regular deliveries of plasterboard from a local manufacturer in Kent to construction sites in central London. We can travel into the heart of the city without being penalised and with a clear emissions conscience.
"As more low emission zones are launched in our cities so gas will become key for operators to carry out work for their customers. Our trucks are also quieter than diesels which means we can make deliveries without compromising local noise levels.
"Half of our Stralis NPs work predominantly on trunking routes and they are performing very well. The level of driver comfort is good and complemented by the lower in-cab noise levels.  The gas power is very efficient when working for long periods at motorway speeds," he added.
Half of the gas-powered fleet is away from base all week with the drivers quickly adjusting to the national LNG refuelling network and planning their routes accordingly.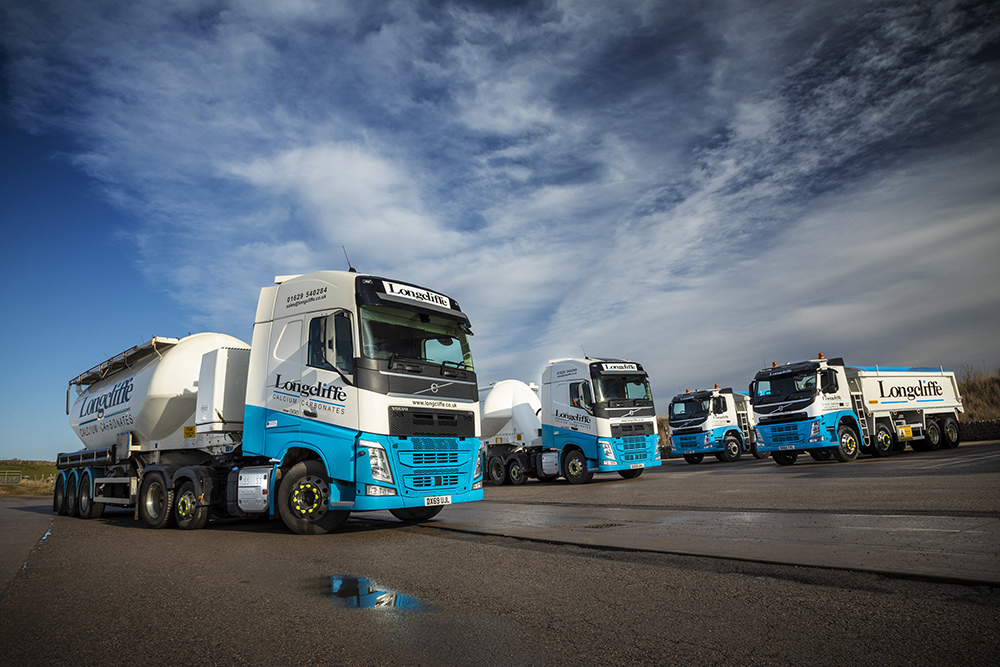 LONGCLIFFE QUARRIES TAKES DELIVERY OF 10 NEW TRUCKS Derbyshire-based Longcliffe Quarries, the UK's leading independent supplier of high purity calcium carbonates, has taken delivery of 10 new Volvo trucks, with its order comprising of eight FH 6×2 tractor units and two FM 8×4 rigids.
The firm specified the FH tractor units with Globetrotter cabs, each built with rear air-suspension and a lightweight fixed pusher axle on 17.5-inch wheels, helping to maximise payload potential. Also contributing to the vehicle's low tare weight are brushed aluminium rims, aluminium fuel and air tanks and an aluminium trailer connection arch mounted behind the cab
The 6×2 FHs are powered by Volvo's latest Euro-6, Step D, 13-litre diesel engine delivering 500 hp and 2,500 Nm of torque, while the 8×4 rigids generate 420 hp and 2,100 Nm of torque. The FHs also benefit from Volvo's long-haul fuel package, which combines latest generation technologies to deliver the best fuel efficiency on every journey – keeping emissions to a minimum.
All new trucks have been specified with four-way cameras for added safety, along with a tyre pressure monitoring system to proactively notify the driver should any tyres be operating above or below optimum inflation pressures. To maximise driver comfort, the tractor units also feature Volvo's Drive+ and Living1 packages, which includes an under-bunk fridge/freezer.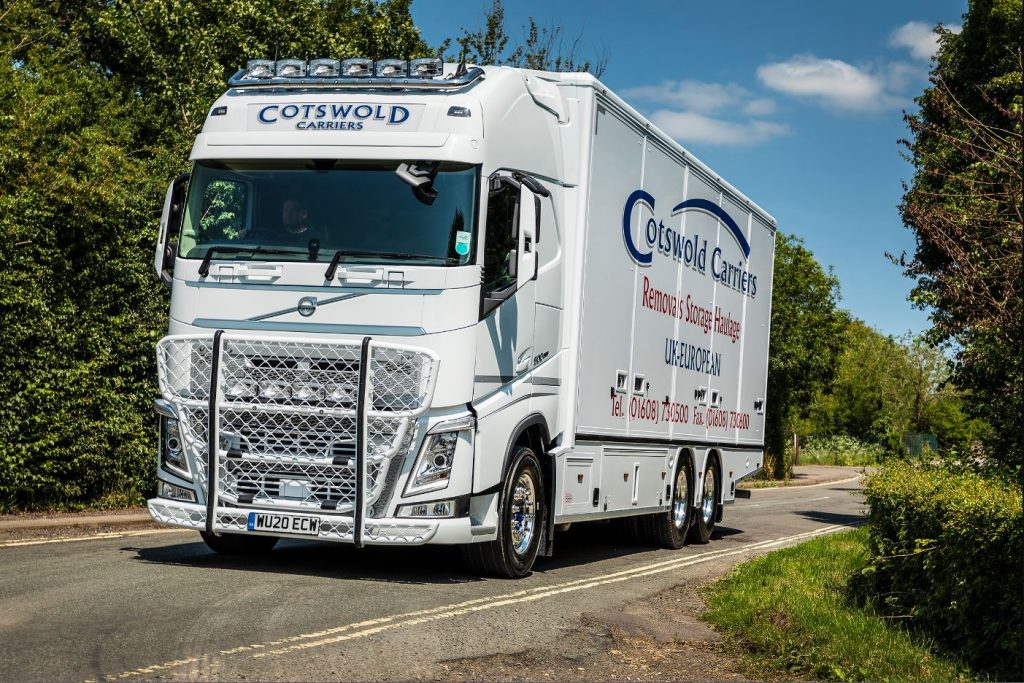 NEW VOLVO FH RIGID IS THE PERFECT MOVE FOR COTSWOLD CARRIERS Removals firm Cotswold Carriers has added another Volvo heavy truck to its fleet with the addition of a new FH 6×2 rigid. Equipped to pull a tandem-axle drawbar trailer, the FH comes with a lifting rear axle on its 5,200mm wheelbase and air suspension on all three axles to aid loading and unloading, as well as protect precious cargo on the move.
The truck also benefits from Volvo's Dual-Clutch I-Shift gearbox that uses sports car technology to enable seamless gear changing. Supplied by Adam Barnard, Transport Solutions Executive at Truck and Bus Wales and West, the FH is powered by Volvo's latest Euro-6, Step D, 13-litre diesel engine delivering 500 hp and 2,500 Nm of torque. It joins three other Volvos on Cotswold Carriers' fleet of five heavy trucks.
The spacious box body was built by SBR Specialist Coachbuilders and allows Cotswold Carriers to fill the truck with multiple loads on removals runs across the UK and into Europe. The Globetrotter XL sleeper cab benefits from Volvo's Two Bed Resting and Drive+ Packages, perfect for the company's staff who can be away on the road for long spells.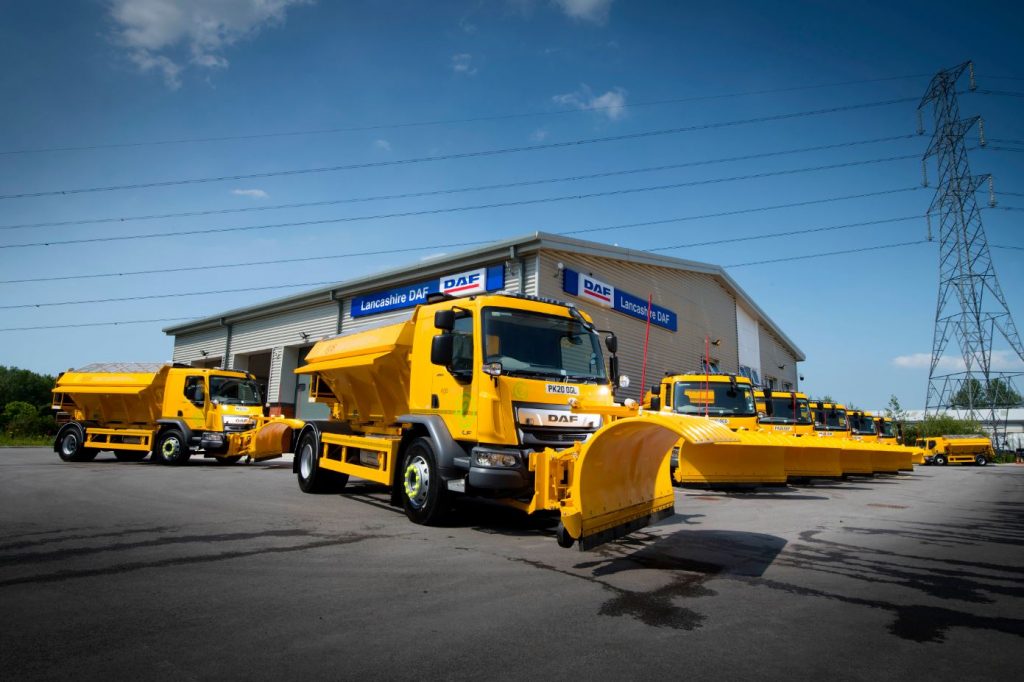 DAF LF HAS GRIT AND DETERMINATION
Econ Engineering receives eight DAF 'Construction' LF 260 18-tonne 4×2 rigids with extended day cabs. The LF was chosen thanks to a 10-tonne payload, generous spec and driver comfort. Bodies feature a 7-cubic metre dry spreaders to service the M40 motorway under contract with infrastructure maintenance firm Egis Road Operation M40 Ltd
Econ Engineering Ltd. – the UK's largest manufacturer of gritters and salt spreading vehicles – has taken delivery of eight new DAF LF 260 'Construction' 4×2 rigid dry-spreaders with the extended day cab to service its customer contract with Egis Road Operation M40 Ltd.
Vehicles feature a rear inspection platform with three-point contact access ladder providing maximum safety for the driver and crew, with full safety rails allowing load-bay inspection and body wash-out at the end of each shift. The spreader is controlled using Econ's own Spargo Touch Control and E-drive navigation systems allowing the operator to control the spreader manually or, if required, allowing the E-drive to control the process through automated gritting on a pre-programmed route. Spreading capacity is road speed related to permit rapid deployment on the motorway up to 45mph.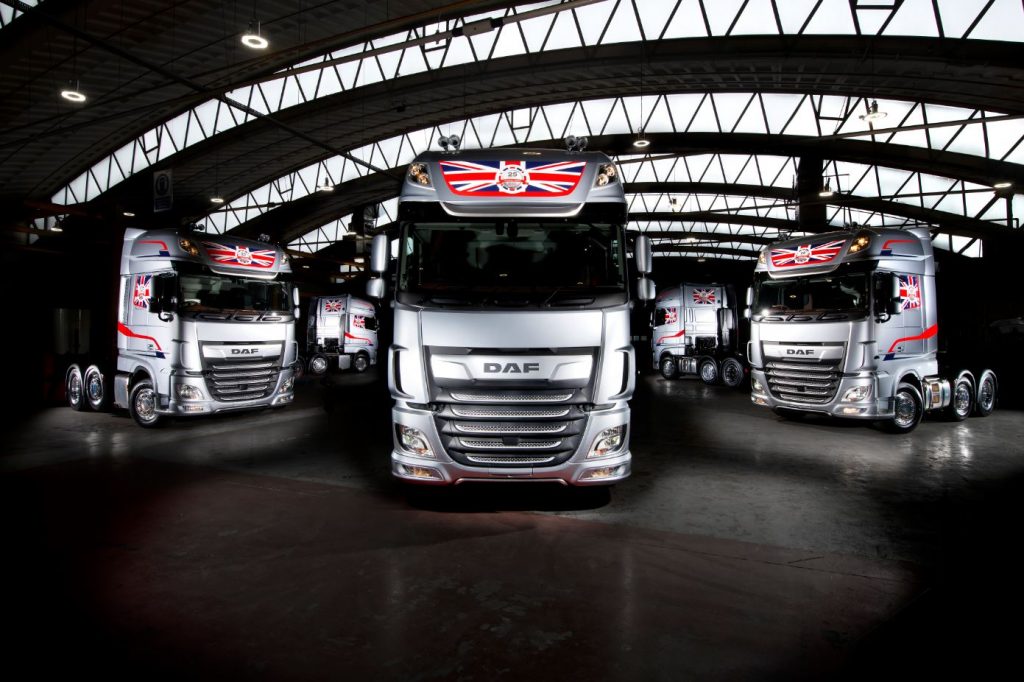 NEW DAF 2020 DEMO FLEET ARRIVES
DAF Trucks has said "it's back to business" as the company embarks upon its '25 Years UK Market Leader' dealer demonstration programme. A total of 32 specially-liveried 'Pure Excellence' DAF XF FTG 6×2 tractors with range-topping luxury Super Space Cabs are now at DAF Dealer sales locations right across the UK ready to hit the road from 1st July.
Special 'liquid metal silver' paint and '25 Years UK Market Leader' livery deliver a striking on-road presence, at the same time acknowledging the British-built DAF brand's outstanding milestone of a quarter of a century as market leader.
All the new XF trucks feature DAF's FTG 6×2 twin-steer axle configuration – the company's best-selling tractor unit in the UK – and a mix of 480bhp and 530bhp engine ratings. The fleet is decked in striking new 'pure metal silver' livery to celebrate DAF Trucks' notable 25 years as market leader, which also features dealer-specific decals.
The tractor units are specified with a whole host of premium comfort and safety features including DAF factory-fitted camera and sensors to enhance the safety of vulnerable road users and to comply with the forthcoming London Direct Vision Standard Safety Permit scheme. Operators are being urged to contact their local dealer at their earliest convenience to secure an early date for demonstration.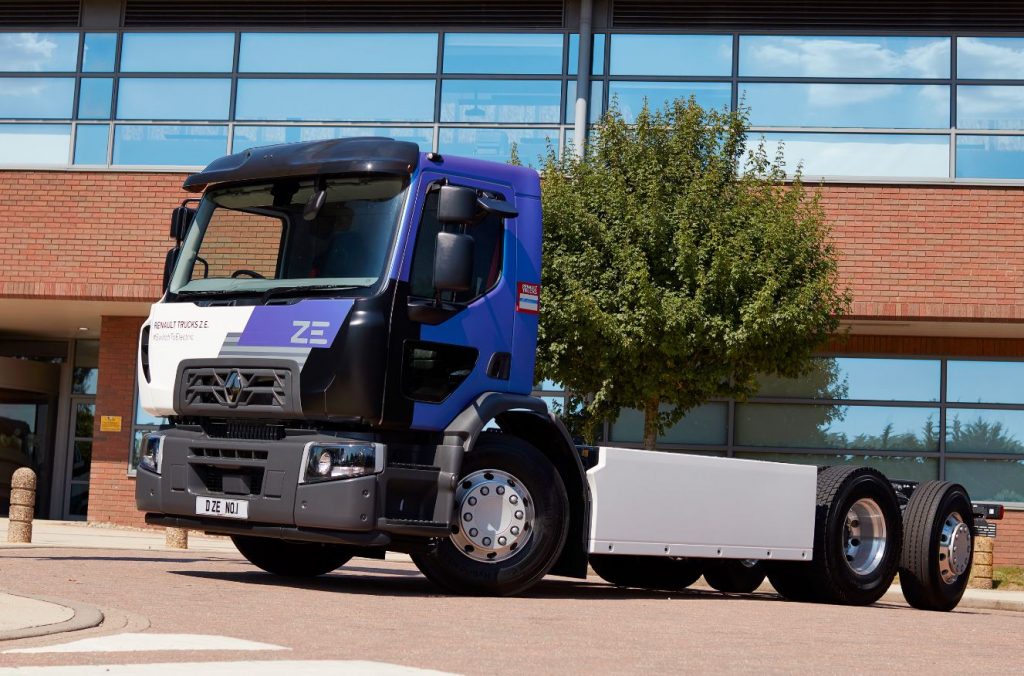 RIGHT HAND DRIVE ELECTRIC RENAULT IS HERE
Renault Trucks announces the arrival of the UK's first right hand drive 100% electric serial production truck, a Range D Wide Z.E. 26 tonne 6×2 rigid.
"Today marks a significant milestone in our transformation of urban mobility, with the arrival in the UK of the first fully electric MHD launched earlier this year," says Carlos Rodrigues, Managing Director, Renault Trucks UK & Ireland.
He continues: "Major cities, starting with London are leading the way regarding air quality improvement. Clean Air Zones and Low Emissions Zones will gradually improve the air quality, but electromobility is the only viable option to achieve climate change and CO2 reduction in the urban environment.  We are delighted to introduce our Z.E. range fitting most urban and last mile delivery applications from 3.1 tonnes up to 26 tonnes. They are available for delivery here and now in the UK and Ireland."
Offering the widest available range from any manufacturer, the new D Wide Z.E. joins the 16 tonne D Z.E. and the Master Z.E. LCV to complete Renault Trucks' line-up of 100% electric vehicles.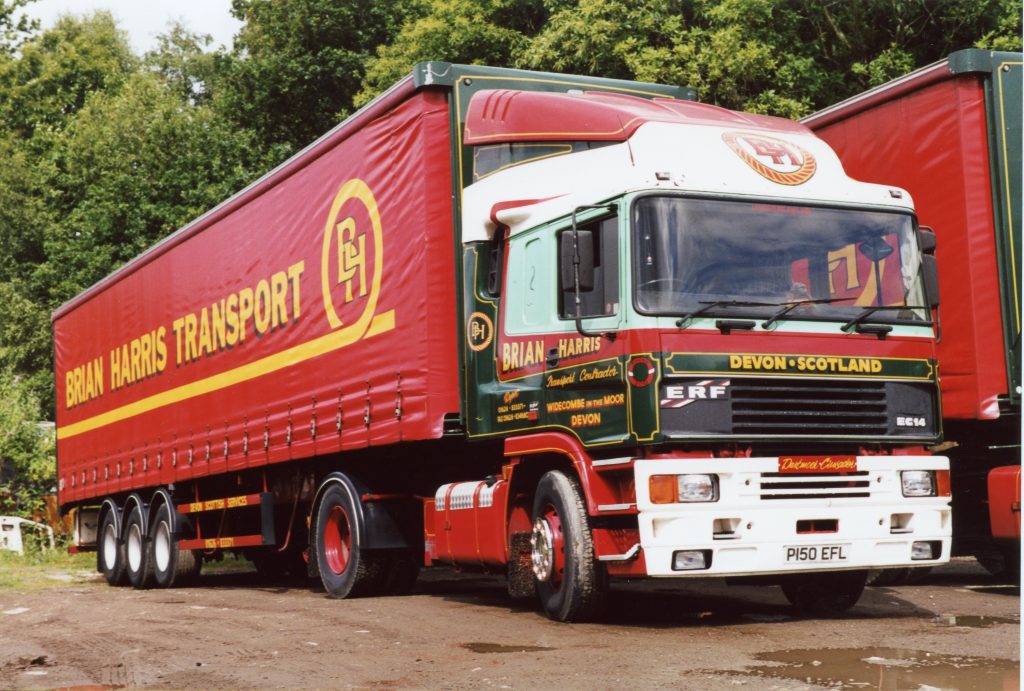 Lastly, T&D contributor and freelance truck writer John Henderson has a new book out on Harris and Miners.
John was privileged to call Brian Harris a friend for over two decades and his pictures from regular visits to the firm's Bovey Tracey depot, up until closure in 2001, are complemented by images of the Devon trucks' weekly trips to Scotland. Important historical images from the cameras of long-standing truck enthusiasts, Rick Ferrari and Geoff Milne add much value to the volume, as do several key pictures from the collections of the Harris family's official biographer, John Corah and the late Brian Harris.
The book's 24 chapters are laid out in alphabetical order, with vehicle marques featured in chronological age sequence. John Henderson also includes information on the Harris family's home village, Widecombe-in-the-Moor, in addition to a look at the life of Brian Harris and in-depth look at the ERF lorries that dominated his operation. Harris & Miners – Brian Harris Transport, A Photographic Tribute to the Famous Devon Fleet was compiled, designed and published by John W. Henderson under his A1 Truck Books banner.
Price: £34 plus £3.50 P&P- for UK & NI
Go to:  [email protected]
That's it for this week….!
We hope you enjoyed this article! For more news, views and reviews on all aspects of the truck driver's life subscribe today.