Head On Collision at 70mph in BTRA Div 2 Race at Thruxton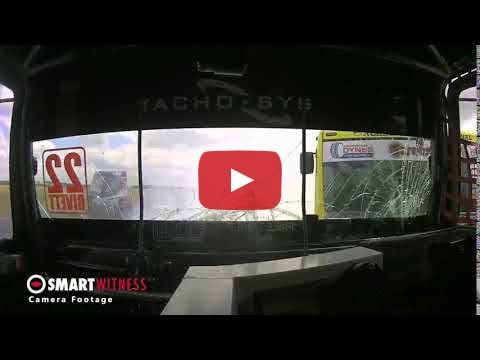 There was a serious collision between two trucks in the final Division 2 Truck race at Thruxton. Shortly after the start of the race Paul Rivett, who was in second position, lost control of his truck and spun 180 right into the path of Steven Powell's truck number 3 who was following closely behind. Powell was unable to take evasive action and slammed into the front of Rivett's truck at around 70mph.
Luckily neither driver was hurt and both continued to race but Rivett's windscreen was shattered and he was left well behind the leaders after the collision. Footage from the collision was requested by the Clerk of the Course to adjudicate on whether the spin had been a forced error.
SmartWitness is the official camera and telematics software provider for the BTRA Championship for 2019 and footage from the high res CP2 cameras was requested for a full VAR adjudication from the collision which happened after the first turn. The SmartWitness cameras were chosen by BTRA because they have amazing clarity even at high speeds and under extreme conditions.
We hope you enjoyed this article! For more news, views and reviews on all aspects of the truck driver's life subscribe today.