Five-figure donation enables Transaid to expand road safety projects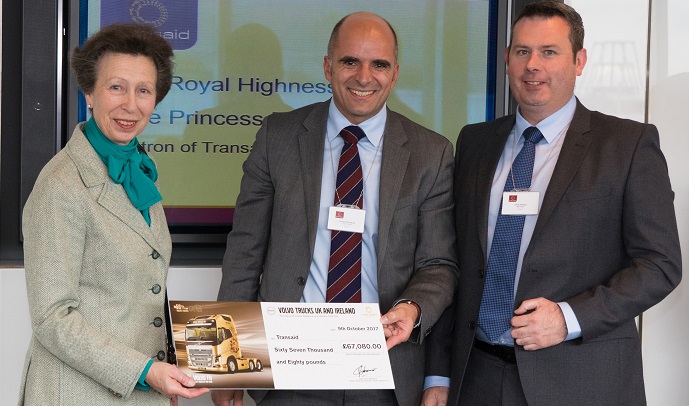 International development organisation Transaid has received its biggest single donation in more than a decade from Volvo Trucks – £67,080 – that will help it to expand its current and future road safety projects in Africa.
The donation came following an auction at Volvo UK's 50th anniversary gala dinner which saw a top-of-the-range limited edition Ailsa gold FH16-750 auctioned for £220,000 to Volvo operator Manfreight in Northern Ireland. Volvo pledged that all funds raised above the truck's reserve price of £100,000 would go to charity, to be split between Transaid and the winning bidder's nominated charity, Cystic Fibrosis Trust. A further £7,080 was raised at the Gala.
Successful bidder Chris Slowey, managing director of Craigavon-based Manfreight, presented the cheque to Transaid's Patron, HRH the Princess Royal, alongside Carlos Rodrigues, CFO of Volvo Group Trucks, at Transaid's annual showcase event on 9 October in London.
Chris said: "Transaid's professional driver training projects are particularly close to our hearts as they help to make commercial vehicle drivers more competent and vehicles safer in addition to reducing death and injury on the road. It's an honour to know that our money will be used to help such a worthwhile cause."
The £67,080 is being directly spent towards the development of Transaid's current road safety and driver training projects in Zambia, Tanzania and Uganda, and will also allow Transaid to expand its road safety programme in West Africa.
Transaid's Chief Executive, Caroline Barber, said: "We… are so grateful to Volvo Trucks for making us the beneficiary of this high-profile vehicle auction. Thousands of people in sub-Saharan Africa will benefit from their generosity."
We hope you enjoyed this article! For more news, views and reviews on all aspects of the truck driver's life subscribe today.