SmartWitness Becomes A New Partner of the FIA European Truck Racing Championship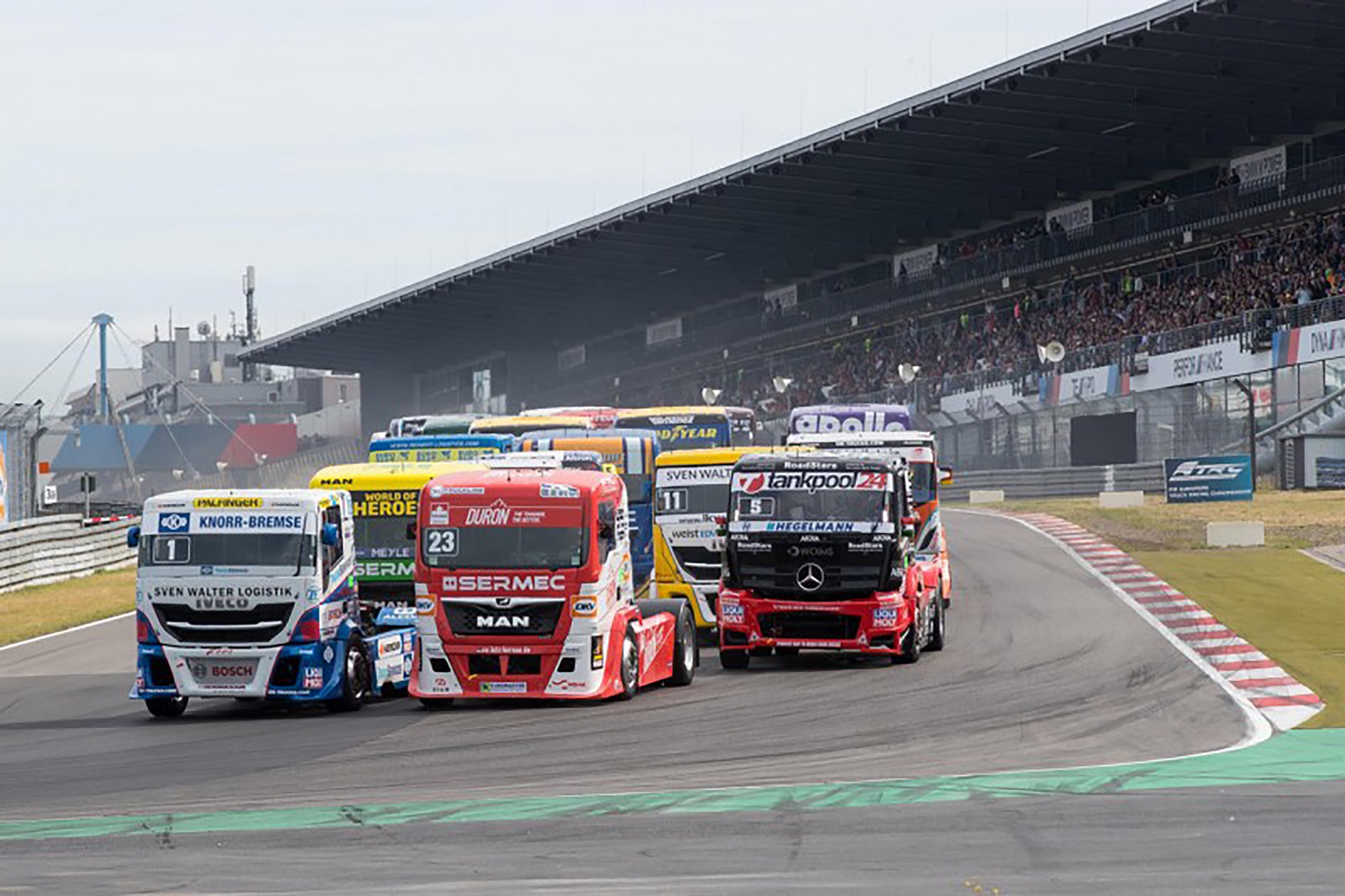 The FIA European Truck Racing Championship (FIA ETRC) is proud to announce SmartWitness as a new partner for the 2020 and 2021 FIA ETRC season.
SmartWitness will provide their in-vehicle cameras, recorders and analysis software for all trucks that are participating in the Championship races, which will provide on-demand video support for race officials at the events to help supervise sporting regulations and safety, investigate suspected driving infringements and also provide footage from the cockpits, bringing the excitement of truck racing from the driver's perspective to the fans.
"We are excited to welcome SmartWitness as a new partner to the championship," said ETRA managing director Georg Fuchs. "SmartWitness are at the forefront of creating industry-leading fleet safety technology. The rugged nature of truck racing provides the best testing ground for recording incidents between vehicles and will undoubtedly also record exciting footage from the action of our truck races.
We trialled the system at our season opening race at the Autodrom Most in the Czech Republic and were really impressed with the footage and the instant availability of videos images to investigate incidents on track.
"The cooperation with SmartWitness fits well into our long-term strategy which focusses on safety related matters, sustainability transformation and truck driver shortage. SmartWitness has not only delivered benefits to the race track, but also enhanced safety in the day-to-day life of our fellow truck drivers on the road. We are happy to be part of this and to provide a testing ground within the exciting environment of truck racing."
SmartWitness Technical Engineering Director, Dean Leonard stated: "We are proud to be a part of the FIA ETRC. We are huge fans of the sport and it's great that we can contribute to the safety and help keep up the fair environment through swift incident resolution."
A pioneer in video telematics solutions, SmartWitness creates industry-leading risk and safety technology that helps fleet organizations take control of what was previously unpredictable. Their commercial-grade hardware paired with data analytics has helped small, medium, and enterprise sized fleets address driver incidents faster and help prevent them.
A world-leading designer and manufacturer of in-vehicle cameras, SmartWitness creates industry-leading safety technology which has produced exceptional results for their clients and has undeniably redefined the way vehicle risk is analysed.
About SmartWitness:
SmartWitness provides the fleet industry with IoT solutions to make management and control of video telematics simple. With over 350,000 devices deployed globally – logging 50 million miles per day – SmartWitness is capturing critical data to support organizations in making real-time decisions to lower risk, improve driver behaviour and ensure a healthier bottom line. From our suite of commercial-grade connected hardware, to our AI-enhanced cloud platform and our best-in-class integrations with telematics service providers, we are constantly redefining the way telematics and video data are being consumed by small, medium and enterprise fleets. We go beyond video to help our clients save time, gain perspective and plan for the future. Smart + Simple.
SmartWitness is a world-leading designer, manufacturer, and supplier of in-vehicle cameras, recorders, and software. The company was launched in 2007 as a provider of professional dash-cams and since then there's been 350,000 installations of SmartWitness connected video telematics equipment and IoT driver safety devices worldwide.
The company is an innovator in fleet safety technology including a range of connected cameras, SmartAPI middleware which allows seamless integration with any telematics platform, GPS tracking, telematics and fleet management software.
SmartWitness creates industry-leading safety technology which has produced exceptional results for their clients and has undeniably redefined the way vehicle risk is analysed.
For more information visit  www.smartwitness.com
About the FIA ETRC
The biggest most imposing racing series in the world, the FIA European Truck Racing Championship (ETRC) is a truly unique motor sport spectacle and the pinnacle of global truck racing with the most professional teams and drivers competing in a pan-European series.
Even though some of its events celebrated their 30th anniversary or more, the recognition as an official FIA championship and current format has been in operation since 2006. The FIA ETRC's first ever promoter, ETRA Promotion GmbH, has been mandated since 2016. Several well-known manufacturers are represented in the FIA ETRC, namely IVECO, Freightliner and MAN.
The very popular championship attracts each year around 420,000 spectators from the industry and beyond. The very popular paddock atmosphere doesn't only attract family and friends but at most events it also functions as an industry exhibition for OEMs, fleet owners, drivers and business decision takers.
The FIA ETRC events are not just events for the (truck) drivers – aligned with this mindset, the promoter ETRC has launched its #onetruckfamily campaign with the objective to unify all industry professionals and to contribute with positive image transfer and emotions to the truck driver shortage crisis.
For more information about SmartWitness please contact:
Sean O'Brien
07771 892 952
[email protected]
We hope you enjoyed this article! For more news, views and reviews on all aspects of the truck driver's life subscribe today.