Snetterton showdown! Smashes, skids, slingshot overtaking moves and more from the MV Commercial BTRA Championship – all captured by Smart Witness cameras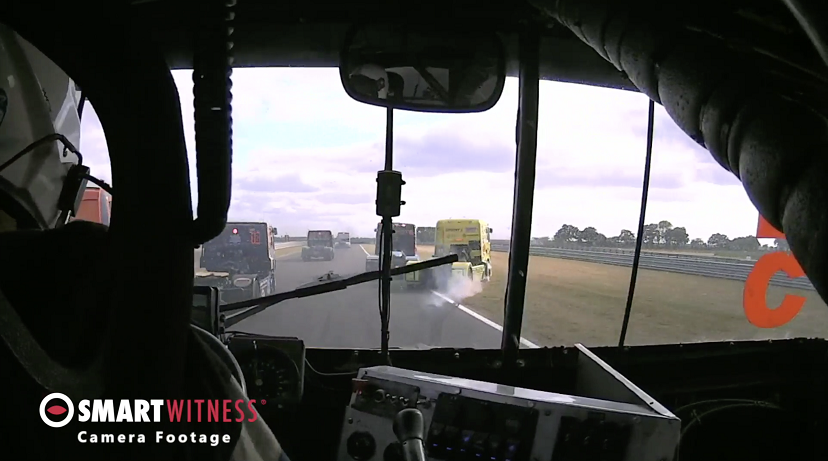 It was a weekend of high drama at Snetterton with a large number of incidents on the track that required VAR analysis from SmartWitness cameras.
YouTube Link for the footage is here: https://youtu.be/XzPSCzul2UI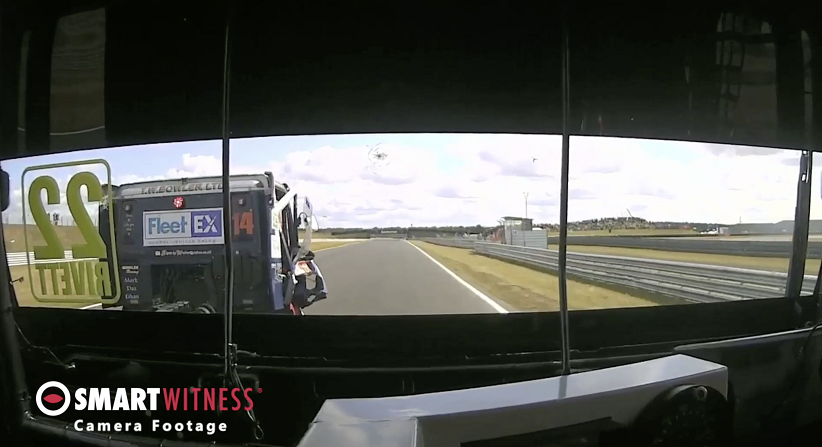 Division 2's John Bowler (14) finished the first race on day 2 with the driver side door hanging off after an incident with Paul Rivett. (22).
There was also some jostling for position at the start of the second Division 2 race of day 1 which saw a collision between Paul Rivett (22) and Steven Powell (03) which pushed Powell off the track.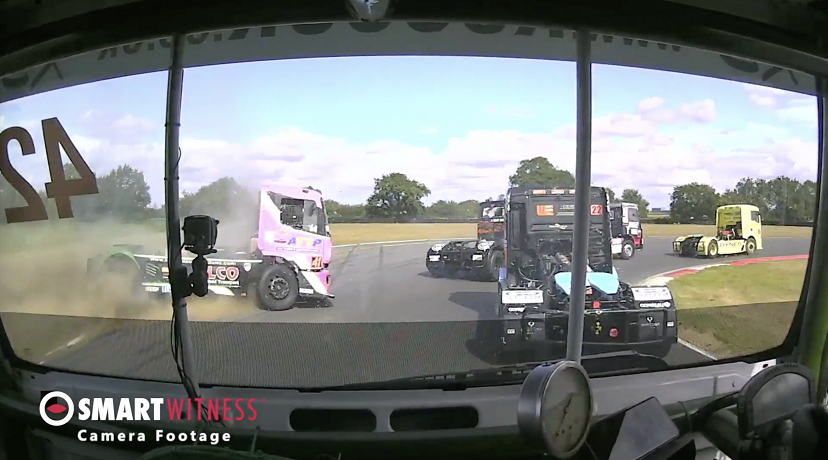 In the same race, Simon Cole's (41) brakes locked on the first turn causing him to be T-boned by Luke Garrett (42) who was right behind and was unable to take evasive action in time.
These were not isolated incidents and there were flashpoints in every race as the BTRA Championships hotted up as it moves into the final stages.
In every single race of the weekend SmartWitness footage was requested for adjudication.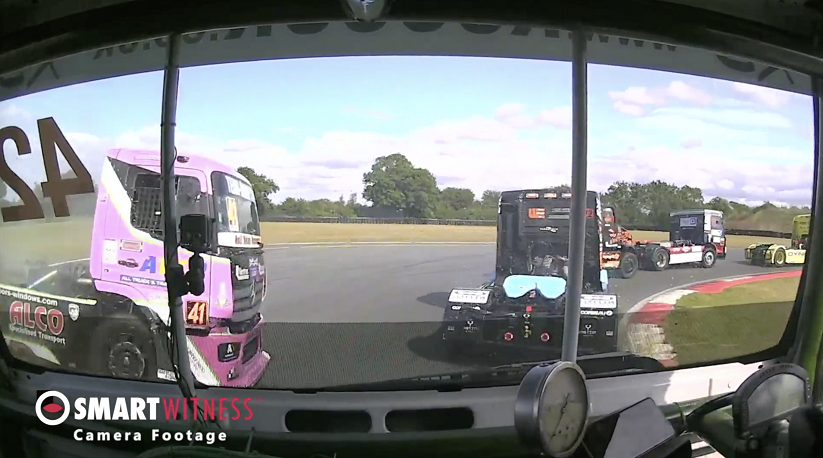 SmartWitness CP2 forward facing cameras have been installed in every BTRA competing truck this season and used in conjuction with SmartView Cloud software the Clerk of the Course was able to call up live video footage during each race to decide on possible contraventions of the rules. In some cases race positions were overturned after the footage was viewed.
SmartWitness CEO Paul Singh said: "The BTRA chose our cameras because they are so robust that they can stand up to the 100mph speeds and extreme G-forces that race trucks are regularly under. You can see from the footage from Snetterton that it's crystal clear, high res footage and that it's completely stable even under these extreme conditions."
It was a beautiful sunny weekend at the track in Norfolk and race conditions were perfect.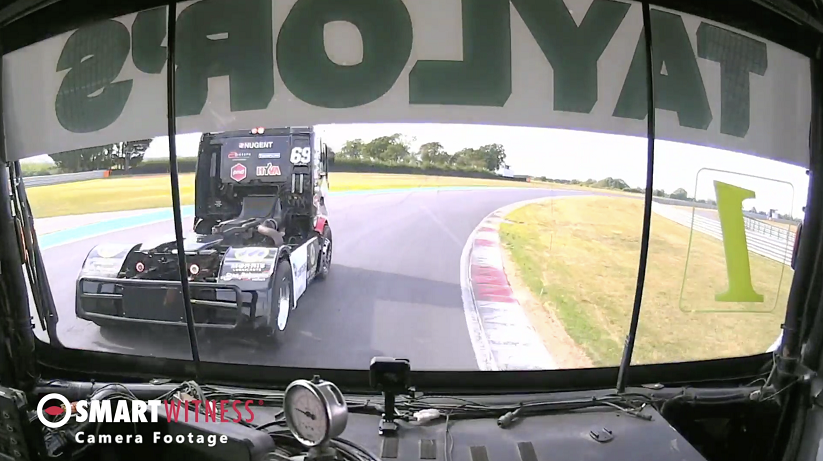 On the first Division 1 race of the weekend Ryan Smith (01) performed a sublime overtake of David Jenkins (69) on the first turn which sling-shotted him into the lead on the inside at the Riches corner. It gave Smith a lead which he never let go of. Footage of Smith's overtake was drawn from the SmartView software just to make sure there was no contact and that it was a fair overtake, which it was deemed to be.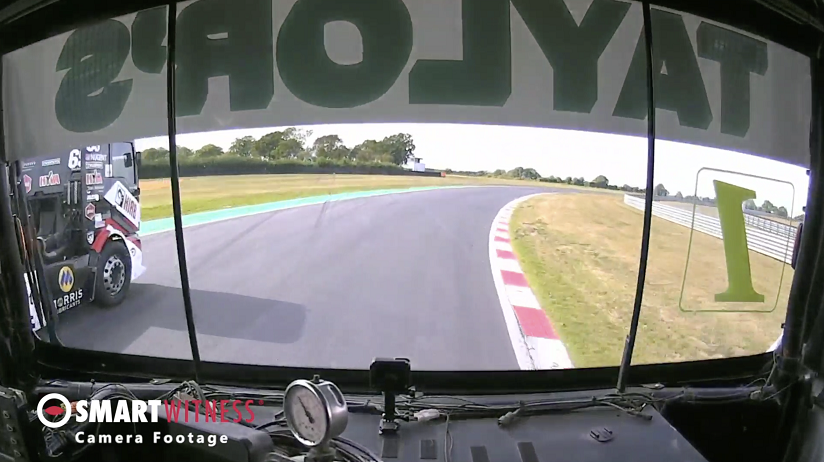 In the second Division 1 race of the weekend David Jenkins held on to the lead by the slimmest of margins and SmartWitness footage was requested of the lead trucks coming out of the Murrays corner and in the Senna Straight just prior to the finish line.
This leaves the Championship with all to play for coming into the final two rounds. Ryan Smith still leads Division 1 with 290 points but David Jenkins is within striking distance with 263 points in second place.
In Division 2 Luke Garrett is still in the lead with 266 points but Steve Powell and Brad Smith aren't far behind on 215 and 204 points respectively.
The next race meeting is at Pembrey on 5th and 6th October, and then the final round is at Brands Hatch on 2nd and 3rd November.
For more information on SmartWitness please contact:
Sean O'Brien
020 7267 4011
07771 892 952
We hope you enjoyed this article! For more news, views and reviews on all aspects of the truck driver's life subscribe today.