Special Edition Actros Edition-1 revealed as Mercedes-Benz welcomes drivers to the new TruckChallenger event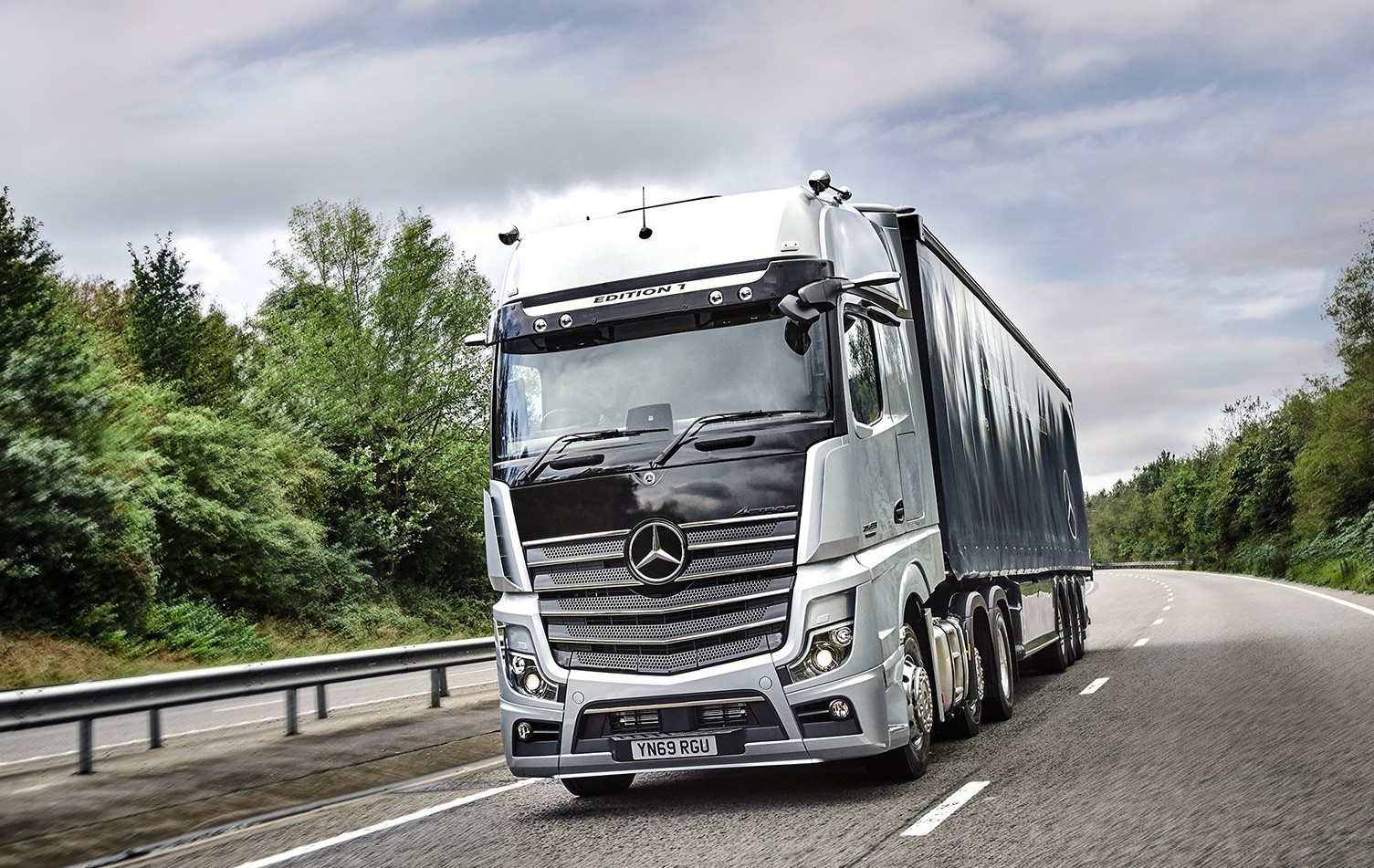 Oooh, a new limited edition Actros. Here's the complete press release about it….
Mercedes-Benz Trucks UK has launched an exciting new driver engagement initiative – and treated those attending its TruckChallenger event to a first glimpse of the stunning, limited-edition Actros Edition 1. The TruckChallenger series is open to current and prospective drivers of trucks bearing the three-pointed star.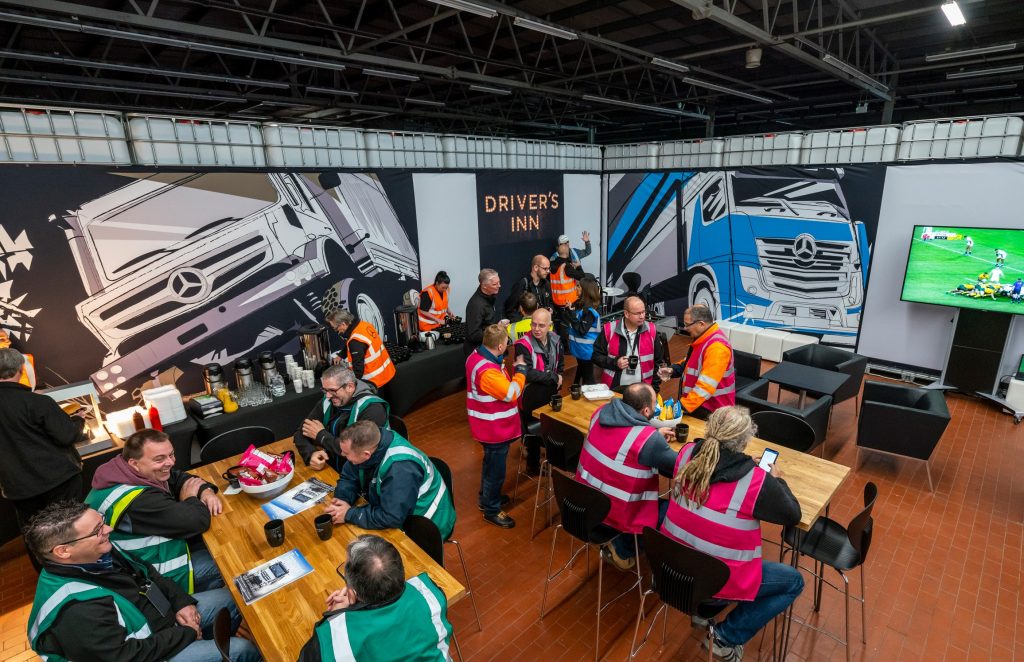 The opportunity to see the first of just 35 Actros Edition 1 tractor units bound for the UK was a memorable highlight of Saturday's (19 October) spectacular 'opener', which was staged at the Mercedes-Benz Trucks Experience & Operations Centre in South Yorkshire. Further events are planned for next year. A competitive theme is key to the TruckChallenger concept, and this was embraced by the 30 drivers who were able to experience a broad range of Mercedes-Benz trucks packed with the latest technologies on the complex's various test tracks and circuits.
An Agility Challenge tested their manoeuvring skills with the new Actros and its revolutionary MirrorCam system, while the Eco Challenge provided an opportunity to take the wheel on the roads around the 70-acre complex. Delegates were also able to have some fun in a pair of eight-wheeled tippers – one from the new-generation Arocs range – and pilot a mighty Unimog over Mercedes-Benz Trucks' demanding off-road course. A fun, truck-based 'pub quiz' added extra spice to round off the day.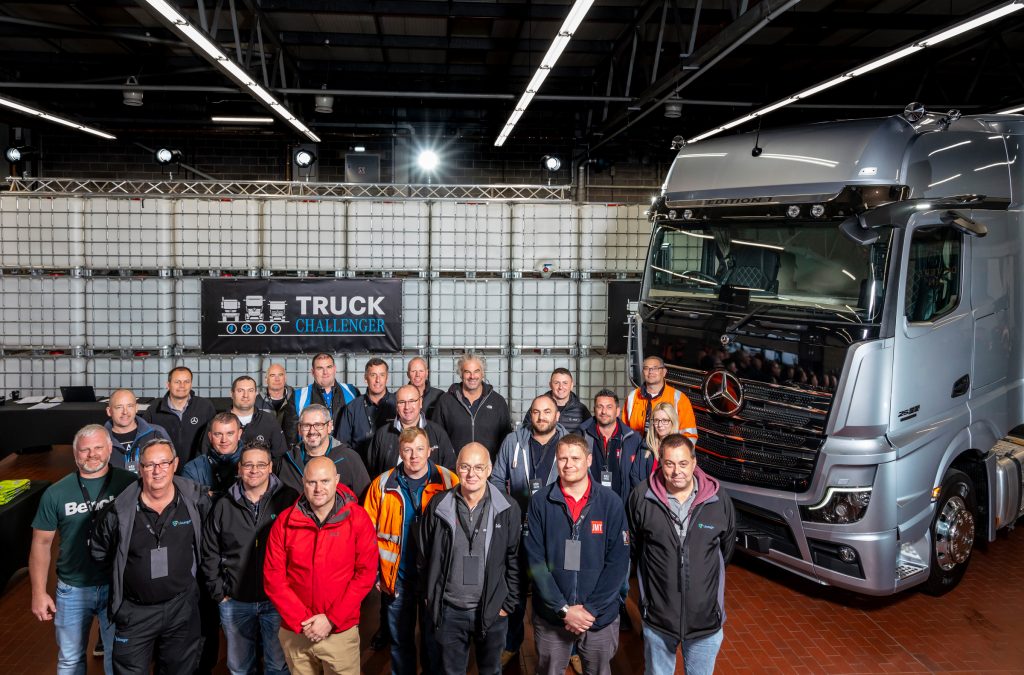 Throughout the event, the best-performing delegates competed for top honours in the various challenges. The overall winner was Chris Broughton, who works as a driver-trainer for Lineage UK Transport, in Heywood, near Manchester.  "We have some new Actros on order and I was looking forward to trying the MirrorCam system," he said. "It's very different and will take a little bit of getting used to, but I was certainly impressed with the technology." He continued: "I thoroughly enjoyed driving the tipper too, as it made a nice change. Mercedes-Benz Trucks has put a lot of effort into this and I'm sure I speak for all of those who attended when I say that I've a great day out."
Mercedes-Benz Trucks' Head of Product & Marketing Ross Paterson said: "Mercedes-Benz Trucks is proud to offer industry-leading products that appeal every bit as much to drivers as they do to operators. "It was only logical, therefore, that we should invite some of those who drive Mercedes-Benz trucks for a living, as well as others who have not yet had an opportunity to do so, to see and experience some of the very latest technology, including the magnificent Actros Edition 1, that we have to offer. The competitive aspect added an extra dimension to the day's proceedings. Much of the driving we witnessed was of an exceptionally high standard, and a lot of fun was had by all. We're now looking forward to the next Mercedes-Benz TruckChallenger events in 2020."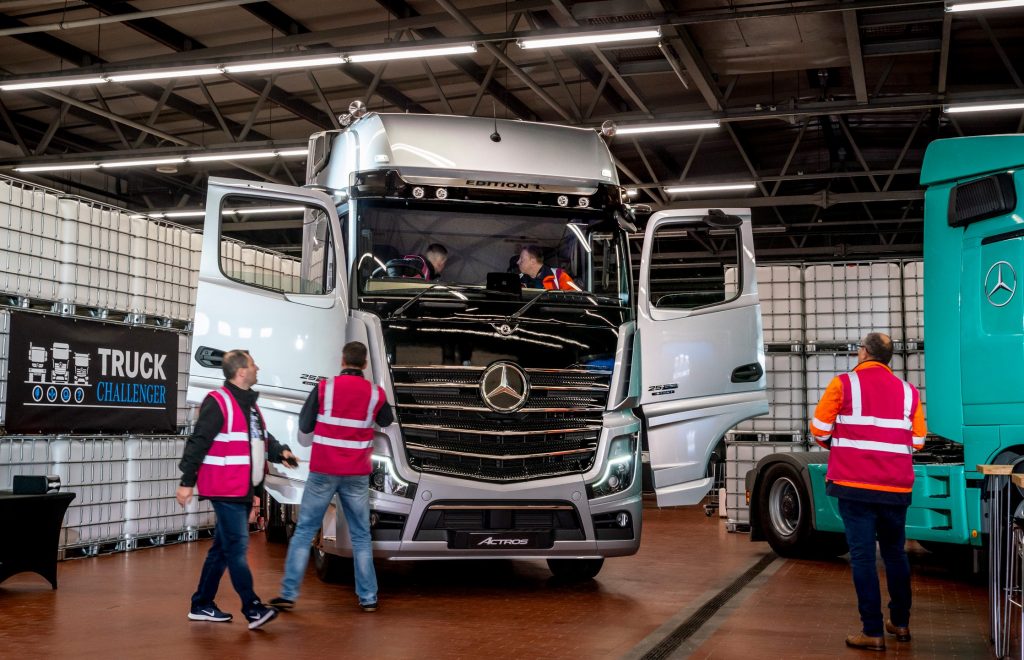 The subject of major investment over the last couple of years, the Mercedes-Benz Trucks Experience & Operations Centre covers some 70 acres and is also home to the manufacturer's demonstration fleet, used truck sales operation, TRUCKTraining facility and remarketing workshops. It recently started offering HGV licence acquisition in addition to Driver CPC training.
The Actros Edition 1, meanwhile, adds numerous special features geared to the driver, to the many impressive innovations that come as standard in the new Actros range. They include seven 'bundles' of optional equipment:
– Safety Package, with Active Brake Assist 5, driver's airbag and Proximity Control Assist;
– Driving Package, with electric roller sun visor, leather steering wheel and more;
– Comfort Package, with Night & Day ambience lighting, shaving mirror, refrigerator;
– Media Package, with sound system, notebook bracket, and an extra 12V socket;
– Stowage Package, including table, shelving system, and drawer under the instrument panel;
– Sight Package, which includes bi-xenon headlamps and LED tail lamps;
– Extra Line, with LED position lamps, LED indicators and welcome light.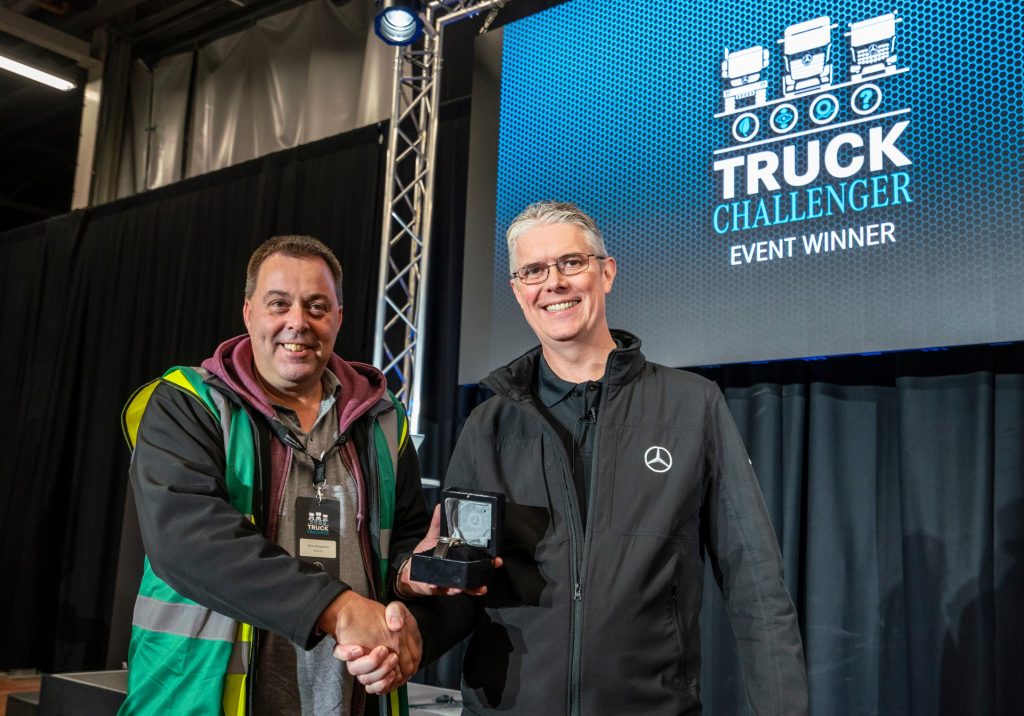 Inside and out, the Edition 1 is instantly recognisable. For example, the Edition 1 logo features in the sun visor and below the model plate. The sun visor also includes four additional LED main-beam headlamps, while there's an exclusive paint finish on the front panels. The all-important illuminated Mercedes-Benz star has a black surround and there are six additions to the grille trim, while the headlamp surround is also darkened. The MirrorCam arms are finished in chrome, and there are stainless steel wheel nut caps on each axle.
Drivers access the cab via the stainless steel steps. Inside are leather door handles with contrasting topstitching, a leather steering wheel, and the cockpit trimmed with black leather. Exclusive floor mats and an Edition 1 plaque on the passenger-side dash in polished and brushed aluminium highlights the fact that just 400 of these vehicles are being produced worldwide.
We hope you enjoyed this article! For more news, views and reviews on all aspects of the truck driver's life subscribe today.