Transport firm rewards dedicated drivers with new MAN trucks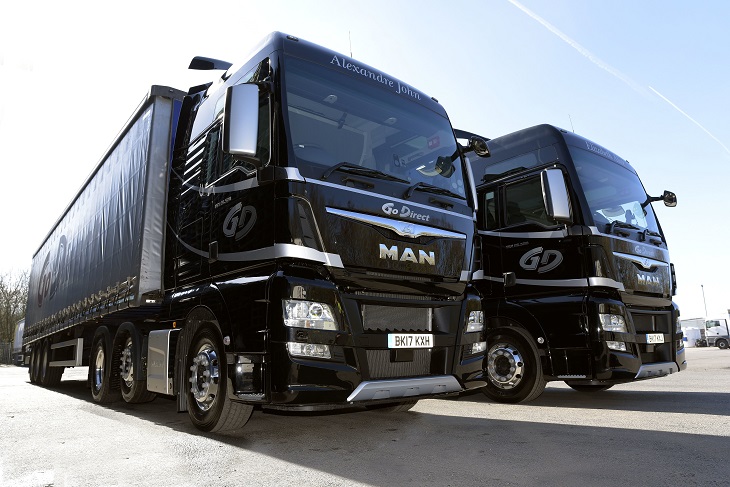 Two dedicated drivers for a transport and logistics firm have been rewarded for their service by being allocated two new MAN trucks.
Cannock-based Go Direct has taken delivery of two new MAN TGX 26.520 tractor units, and has had them kitted out with top-of-the-range equipment.
Gary Oliver, who runs Go Direct with his wife Karen, said: "We are always looking to reward our good staff with the best trucks available to us and the two drivers who have received these MANs are absolutely delighted by them.
"We are looking for the best deal on the best spec and MAN was able to come up with these units fitted out with alloys and leather seats and the top equipment at the right price.
"I spoke to one, who while not a regular tramper, does spend anything from a few nights to a week out, and he said he was so comfortable in his new MAN it was as comfortable as being at home. He is thrilled with his new vehicle.
"The other one has gone to one of our longest serving drivers who has worked for me for more than 20 years and moved to the transport division on its inauguration.
"We have had MANs previously, and we are very pleased with these new vehicles and the overall service we have received from the sales team.
Mike Richards, MAN sales executive, said: "It is fantastic to hear that the MANs are being used to reward drivers and that they in turn are delighted with the vehicles. They are fully-specced and look stunning in black with the silver livery."
We hope you enjoyed this article! For more news, views and reviews on all aspects of the truck driver's life subscribe today.