Young engineers celebrate success in designing honey-powered truck of the future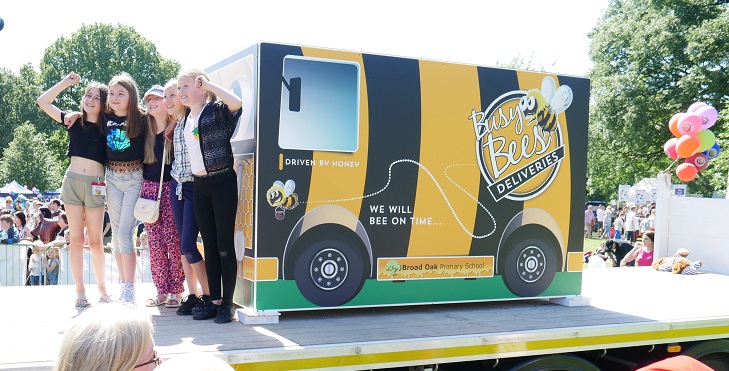 A team of young engineers are celebrating their success in a Dragon's Den-style competition to design the truck of the future.
Pupils from across Lancashire took part in the competition at Leyland Trucks, with the winning school announced at the Leyland Festival on June 17.
The all-female team, The Queen Bees from Broad Oak Primary School in Preston were crowned winners, with a model of their truck design – which is powered by honey – unveiled at the festival.  The Truck came after the team of 10 and 11-year-olds began to think about habitats that need protecting.
The competition was set up by South Ribble Borough Council, in partnership with Leyland Trucks and Educational Consultancy STEMFirst. It seeks to promote links between schools and businesses, encouraging engagement in science, technology, engineering and maths subjects (STEM).
Students were asked to design either a futuristic delivery truck to transport smaller packages to multiple locations, or a long-distance bulk vehicle to carry larger or heavy loads across long distances.  The team had to consider maintenance, fuel and noise levels.
Teachers Louise Bush and Sally Coulson helped manage the competition at Broad Oak Primary, and said the girls, all in Year 6, were thrilled with their win. Coulson, science lead at the school, said: "We are so proud of the girls. They worked so hard on this project, and they were overjoyed to see the truck in the flesh.
"The scheme has opened their eyes to what engineering is, and what it could mean for their future and it was amazing to see the technology in the flesh at the Leyland Trucks site and was a great project for them to be involved with, and even better that they won!"
The girls' winning design has become the 14th and final truck on the Truck Trail of model vehicles currently placed across Leyland, set up by Stone Create to showcase the town's engineering heritage.
Pupils were asked to consider a lot of details, including the cost, look, safety factors, emissions, noise, adaptability, maintenance and size and weight – a big ask. The STEM Ambassador judges marked each group on teamwork, research, ideas and creativeness, and design, allowing them to show us a broad range of their skills.
We hope you enjoyed this article! For more news, views and reviews on all aspects of the truck driver's life subscribe today.