CONVOY IN THE PARK COUNTDOWN! TRUCK & DRIVER TALKS TO MV COMMERCIAL'S TOM O'ROURKE ABOUT HIS JOURNEY FROM SPECTATOR, TO SPONSOR, TO RACER…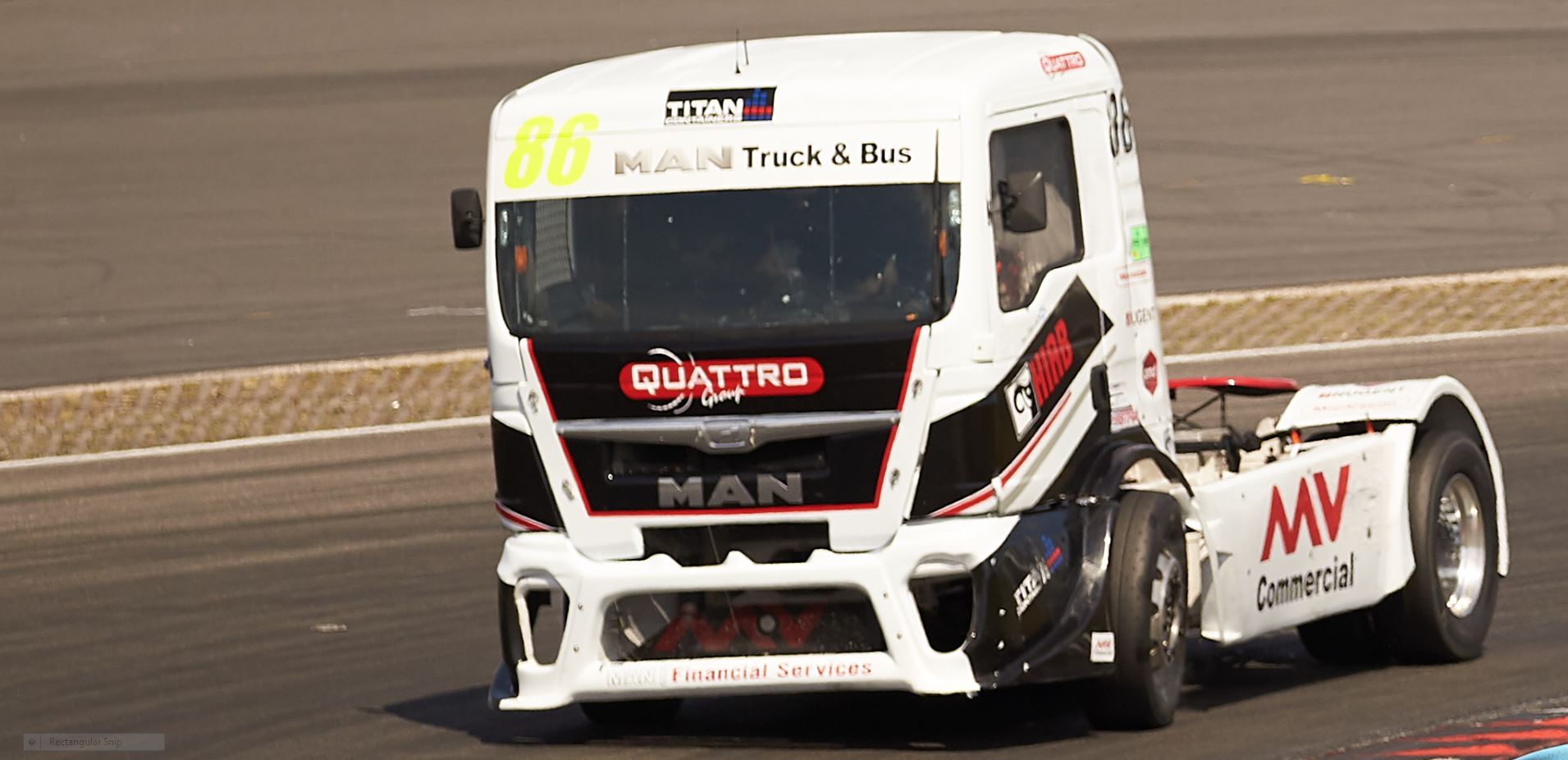 "In 2017 we took our exhibition unit to Convoy in the Park, along with a few trucks. And to be honest, I didn't know a thing about truck racing" explains MV Commercial's CEO Tom O'Rourke. Now, in 2019 MV not only sponsor truck racer Dave Jenkins, they sponsor the British Truck Racing Association Championship and last month at the Nurburgring, Tom made his truck racing debut. Clearly a lot has happened since that day at Donington two years ago! Truck & Driver spoke with Tom at MV's Airdrie HQ in Scotland to find out the story.
"As soon as I saw the trucks on track, that was me, I was hooked" he smiles, "a dozen trucks charging into the first corner at 100mph in blaze of noise and smoke – there's nothing else like it in the world." Within a fortnight he had sponsored Dave Jenkins, whose father Tony was part of the very beginning of British truck racing in 1984. Back then you dropped your trailer, cranked the fuel up on your road truck and off you went. A lot has changed since then…
Tom found that the team sponsorship was a good fit for MV Commercial, and when the opportunity to sponsor the entire championship came up, he jumped at it. "It's a brilliant way to meet our customers nationally" he says, "it's an informal, entertaining environment where mobile phones aren't ringing all day and it's worked really well for us." Watching the truck racing, and being so close to the action led Tom to think he would at least like to have a drive in a racing truck.
Then Shane Brereton of TOR Trucks MAN race truck came up for sale. Race trucks are a rare commodity, and this particular vehicle had proven heritage. "There is maybe only one dedicated race truck builder in Europe, so there are long lead times and the bar to entry is quite high" says Tom. "I saw the truck come up for sale, and I wanted to keep it in the UK and part of the British Championship, so I bought it."
Tom wasn't sure about actually going racing in the truck himself at this point, but he was sure as hell going to have a shot of the truck (well, you would, wouldn't you?) and did so at Pembrey. "I had no idea to begin with but I thought right away, 'oh I really quite like this!' and then Dave Jenkins offered his services to mentor a 56-year old rookie!" With Dave's expert tutoring it became clear that Tom had a good feel for the truck so he decided to enter a race – at the ADAC Truck Grand Prix at the Nurburgring, an event attended by over 200,000 people. Nothing like going in at the deep end!
Tom raced from 24th to 8th place in race one, and with the grid reversed for the top eight in race two, he was to start in pole position. The third race saw with climb from 8th place to 5th, scoring a total of 30 points over the weekend.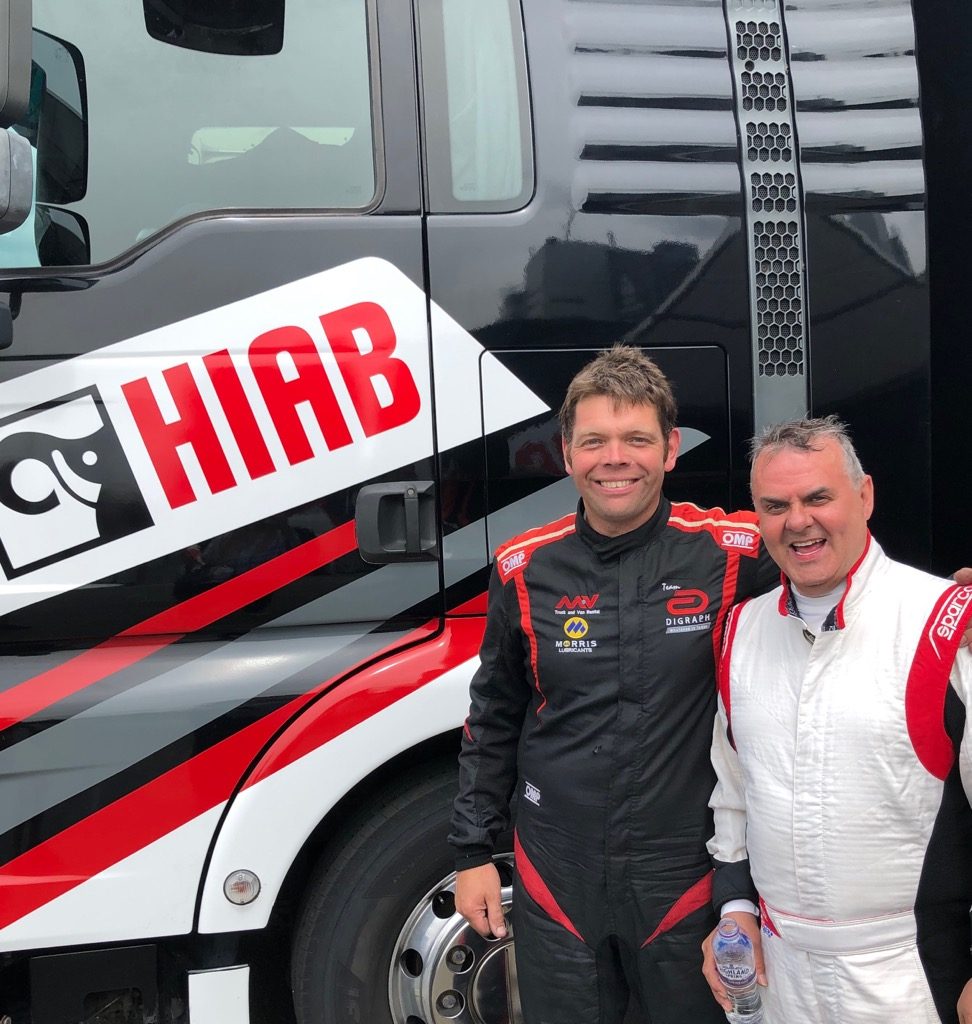 Tom can't wait for August 10th to roll round "I'll take it one race at a time and see how it goes. I've got a lot to learn, but I'm loving every second. Next up is Convoy in the Park at Donington, which is one of my favourite circuits. It's the home of truck racing, and it's where we started our journey two years ago. The atmosphere is amazing and I can't wait."
There are more plans afoot for Tom, MV Commercial and truck racing going into 2020 as well. MV are at the cutting edge of building hydraulic-based vehicles such as crane trucks, tipper grabs and beavertail trucks. They've recently introduced a modular sub-chassis for cranes which can fit a Volvo, Scania or DAF – which is a story in itself.
The point is, they have the means and resources, along with Tom's enthusiasm and Dave Jenkins experience to build an exciting race truck, here in the UK. "We definitely have the passion, and the facilities to potentially build our own race truck and I really hope we can do that" he grins.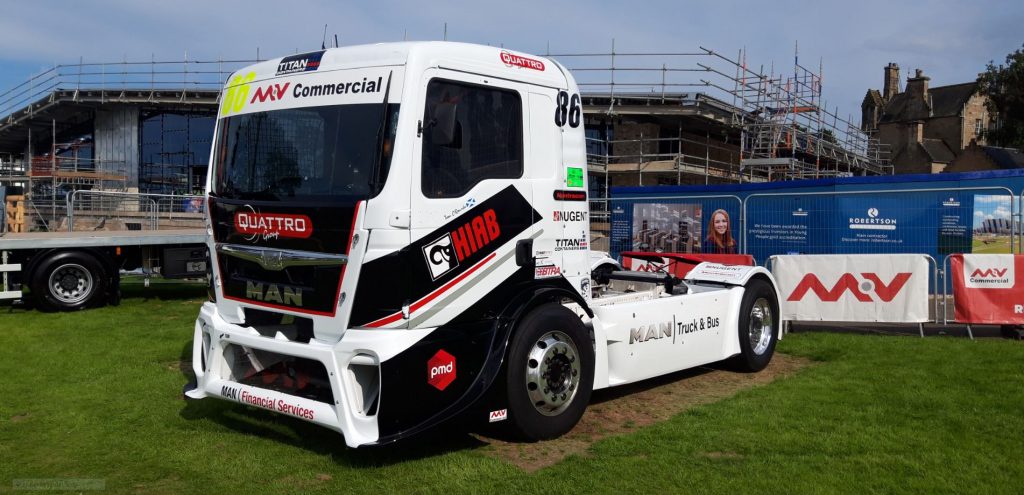 So look out for race truck number 86 at Convoy in the Park next weekend, and be sure to check out the impressive MV Commercial display too. From race trucks to show trucks, the 10th and 11th of August promises to be the hottest weekend of 2019.
We hope you enjoyed this article! For more news, views and reviews on all aspects of the truck driver's life subscribe today.