Scania Longline eXc-tly the right 'night-out' truck for a long haul driver and Biglorryblog..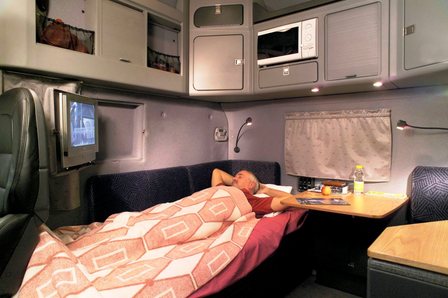 Just to prove to 'The Boss' that the Americans aren't the only ones who can build a big sleeper cab, how about this blast from the past…? yes it's 'The best sleeper ever built in Europe' the wonderful (and sadly missed) Scania eXc 'nee Longline'. Look carefully at the picture as the bed is actually placed along the SIDE of the cab, not across the back…and click through here to see some more goodies…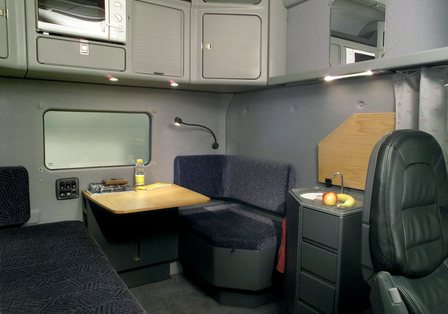 This is shot from the bed looking across to the other side of the cab—which was based on a 4 Series Scania Topline sleeper extended by 1,300mm back from the B-post which gave them a lot more room for a much better interior including the addition of extra cupboards, fridge, sink/wash-basin, TV, table and chair….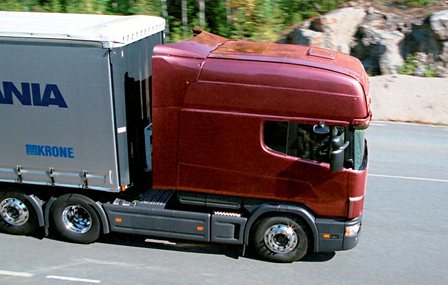 And there it was….I drove the original prototype and slept in it too outside the factory gates. Of course it couldn't hitch legally to a 13.6m trailer but Scania felt they could persuade Brussels to go for longer artic combinations…unfortunately the bureaucrats were presumably far too interested in lunch than improving the welfare of European truck drivers….and when 5 Series came along Longline was quietly dropped as a cab option. Some 5 Series Longlines HAVE been built (Svempa has done at least one)…but they're about as rare as hens' teeth…more's the pity.
We hope you enjoyed this article! For more news, views and reviews on all aspects of the truck driver's life subscribe today.